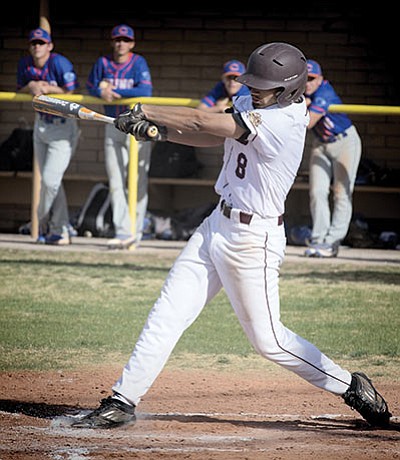 Originally Published: April 12, 2016 11:06 a.m.
WINSLOW, Ariz. - The Winslow Bulldogs defeated the Mingus Marauders 10-4 March 30 in Cottonwood and beat the Chino Valley Cougars 6-1 in Winslow April 1.
The results left the Bulldogs with an 8-7 record for the season going into a game against the Show Low Cougars April 5 in Show Low.
In the win over Mingus, Matt Ramos worked the full seven innings giving up four runs, only three of which were earned, on nine hits and five walks.
The Bulldogs were down 4-1 after three innings but came back to take a 5-4 lead in the top of the fourth and plated two runs in the sixth and three in the seventh inning to pull away.
Junior Villanueva led Winslow at the plate with a three for three day. Akeem Foster, Matt Bollin and C.J. Chacon were two for four with Foster and Bollin having triples. Rey Chavez-Velez was two for five. Kuster Kinlecheenie was one for three with a double and three RBIs. Nate Hollins was one for five.
In the win over Chino Valley Kinlecheenie was the winning pitcher working the full seven innings and just giving up one run on five hits and a walk while fanning eight.
Ramos was three for four to lead the Bulldogs at the plate. Kinlecheenie was two for three. Chavez-Velez was two for four. Hollins and Chacon were one for four.
After the Show Low game Winslow played Maryvale on April 7 in the Wolves Classic Tournament at Goodyear.