How do you say 'wookie' in Navajo?
Navajo dubbed Star Wars film brings traditional language to new audiences
Originally Published: April 5, 2016 11:12 a.m.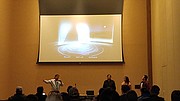 FLAGSTAFF, Ariz. - "Spaceship" isn't a common Navajo word. But actor James June used it a lot while working on a Navajo language version of "Star Wars IV: A New Hope."
"It is not very often that you hear spaceship every day," June said. "That was a new word that we had to learn. For me, it was hard. I never realized that modern Navajo has a lot of slang to it. And to speak the proper Navajo language was really challenging for me."
"Star Wars IV: A New Hope" in Navajo played at Twin Arrows March 29 before a crowd of about 150 people - it is the first major motion picture where Navajo is spoken throughout the movie in an effort to have people learn and be engaged with the Navajo language.
Manny Wheeler is the director of the Navajo Nation Museum. In 2013, he worked with a small group of people to dub the movie into Navajo. He said the voice performances in Navajo took only 90 days to record - where a usual dubbing of a movie in Hollywood would take six to eight months.
"That is a huge feat," Wheeler said. "From the moment they started translating to the moment we showed it at the Fourth of July fair, it was 90 days. Even by Hollywood standards that is a very, very big accomplishment. There were a lot of people who worked really hard to make it happen."
Most of the movie was recorded in Gallup, New Mexico.
"We tried to keep it as Native as possible," Wheeler said. "Even the studio was owned by a Native..."
When the movie was first released after having been dubbed into Navajo, Wheeler said he wondered what it would take for someone like himself, who was not a fluent speaker in Navajo, to learn Navajo and to feel engaged and feel like there was a welcoming aspect to learning the Navajo language. Wheeler decided that having Navajo actors dub Star Wars was one of the ways.
"We're doing it to bring awareness to language preservation," Wheeler said. "We're trying to say the language and we're trying to bring awareness. With this, I really think we're bringing awareness because the movie by itself isn't going to save our language but it is going to lead to other things. In a sense we are saving our language. But, more importantly right now, we're bringing awareness as to why we should know our language."
Three of the voice actors who are in the film were on hand March 29 to talk about the experience. James Bilagody, from Tuba City, Arizona was the voice of General Tarkin; June from Farmington, New Mexico, was the voice of Han Solo and Geri Hongeva-Camarillo, from Flagstaff, Arizona, was the voice of C3PO.
"Without their awesome performances, we wouldn't all be sitting here right now," Wheeler said.
June said for him dubbing the movie and playing the part of Hans Solo was the most challenging thing he has ever done. He was in the studio for 12 hours straight in a booth with the script and the screen. But when he was finished, he felt that it was probably his greatest accomplishment.
"You consider yourself a Navajo speaker, I think we all do," he said. "But until you actually have to read it and then put Han Solo's feelings and his demise and his character into it, it really challenged me. You wanted so hard to do it so well and you wanted to honor those people who taught you Navajo, your grandparents."
He said what matters most is that the Navajo people go see the movie and get to see and hear the language in a different way.
Hongeva-Camarillo, who played C3PO, said her character was really funny and really serious, in addition to being a robot and male. It took her about six hours to record the voice.
"When I did the voice, I had to maintain that personality," she said. "You'll notice he's the funny one. It was definitely difficult to not only act but to say it and to get it right."
Bilagody said he felt two emotions - pressure to get it correct and the overwhelming feeling of closeness with the interpreters who were there to help the actors.
"By the time I was done, I knew they had my back," he said. "I knew they would not allow me to do it incorrectly. And that was such a strong bond. I have never felt that before, having someone have by back."
Bilagody said the director, who didn't speak Navajo, knew exactly where his tongue was in his mouth and what needed to change and she knew exactly how to push Bilagody to get the performance and the voice correct.
"We really built trust and I really got close with the director," he said.
Bilagody said the first time he saw "Star Wars: A New Hope," he remembered walking out of the theater and thinking that it needed to be done in Navajo.
"And Manny made that happen," he said.
Lil Miss Western Navajo Agency asked the actors how important the Navajo language was to each of them personally and for Diné youth. She also asked for something inspirational she could take back to the Western Agency and Diné youth.
June said he was in Africa building houses for Houses for Hope when he realized how important the Navajo language was.
"I was the only Navajo there, the only Navajo in Africa," June said. "The lady we built a house for said, 'You, red Indian.' I'd never been called red Indian in my life. I felt like I wanted to grow my hair out long and take my shirt off. And she said, 'You, red Indian, I want you to pray. I don't want you to pray in English. I want you to pray in your language.' If this lady halfway across the world thinks that my language and my culture is pretty special, I take it as pretty special myself."
Bilagody said his first language is Navajo. When he went to school off the reservation he was disciplined for speaking Navajo and not English. As a result, he lost the ability to speak Navajo. By the time he was in high school, he was bullied by some Navajos because he could not speak Navajo.
"The silver lining in that is that I learned how to speak Navajo because of those bullies," Bilagody said. "When people say, you shouldn't bully, I have in my mind, 'but they taught me Navajo.' I really revere Navajo. I remember as a teenager my relatives telling me, 'don't speak Navajo, speak English.' I'm glad I didn't listen."
Bilagody said he used to speak Navajo and English on the air on radio in Salt Lake City, Utah and that was his contribution to keeping the Navajo language alive until this movie came out.
"When Manny made [the film] happen, it was like the hole in my heart was filled," he said. "It was like taking a deep breath - cool air in the mornings. I've been feeling that every time I watch the movie."
Wheeler asked the crowd to cheer when Star Wars popped up on the screen.
"Who's ready to watch a movie? he asked as the familiar words scrolled across the screen, 'A long time ago in a galaxy far, far away...' to the crowd's cheers. But this time it was different. The words were in Navajo.
SUBMIT FEEDBACK
Click Below to:
More like this story