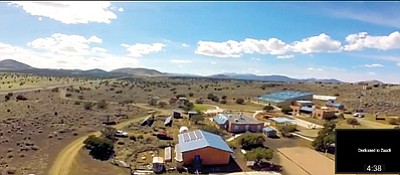 Originally Published: October 27, 2015 9:53 a.m.
FLAGSTAFF, Ariz. - Noodle, a comprehensive website for education information and resources, named STAR (Service to all Relations) School one of the 41 Most Innovative K-12 school in America Oct. 19 for its revolutionary approach to education.
The list at honored 41 top public, private and charter K-12 schools that empower teachers and administrators to inspire students love of learning by "not only changing the lives of their students, but also redefining the education landscape," Noodle's website read at https://www.noodle.com/articles/innovative-schools-2015#star.
"This year's top 41 institutions exemplify new ways of addressing educational challenges and encouraging students to thrive," said Suzanne Podhurst, editor-in-chief of Noodle. "All of the featured schools are making a demonstrable impact on the students they serve - and on the larger education space. At Noodle, we are shining a spotlight on the schools that are redefining education and creating exciting opportunities for their students."
STAR School is among 140,000 K-12 schools in the U.S. Noodle experts selected it from among tens of thousands of schools.
STAR School, which opened in 2001, is a charter elementary school located 25 miles east of Flagstaff, near the southwest corner of the Navajo Nation, a place with no power lines. It is a K-8 school and its student population is more than 99 percent Native American, with two students who identify from a different cultural background.
According to the Noodle website, STAR is innovative because it is the first charter school to exist completely "off the grid." The school is powered by 245 solar panels and two wind generators. The school provides enough energy to provide phone service, Internet and electricity without having to rely on outside sources.
"The school's ability to generate its own power means it can direct funds toward instruction rather than operational costs," Noodle's website reads. "In the process, the school makes the concept of sustainability an inherent component of the learning environment and curriculum. The school demonstrates what it means to be resourceful - ... and in the process, cultivates environmental awareness and commitment among students."
STAR which also has a "Farm to School" program, works with local farmers to grown their own food. It practices a place-based curriculum, which is grounded in the Navajo tradition of valuing relationships - among the students themselves, with the environment and with the local community.
Dr. Mark Sorensen, STAR's co-founder and chief executive officer, said the school is proud to be honored for the hard work of their educators and the achievements of their students, particularly with its emphasis on Native values.
"What makes us innovative is so many of our schools are so focused on standardized testing and, of course, that is a big concern for us as well but we don't want it to be our main driving force," he said. "We want our kids to come out of here well rounded and really appreciating who they are and where they live and the value and beauty of helping one another and dealing in relationships to one another."
One of the ways that plays out, Sorensen said, is the safety of the school. There have been virtually no fights on campus for the past five years and minimal examples of bullying.
"We have made it a safe place for the kids," he said. "Honestly, I think that is what parents and kids care about as much or more than anything else. It's a safe and caring place."
Sorensen has been involved in Indian education for his whole adult life. His doctorate is in Indian education and he said for Native kids not having to choose between their Native culture and learning in an educational environment is a positive one.
"It's clear in the past, not to distant past actually, schools were a vehicle to strip cultural value away from Native kids," he said. "We see the kind of school we're operating here, the kind of school that we think is possible, schools can actually be a vehicle for strengthening those cultural roots and for strengthening Native identity and for strengthening the valuing of Native knowledge."
Noodle also discovered while studying the school that STAR has a project in place where students are working informally with Lowell Observatory, Coconino Community College and Native scientists who are working with NASA. The school is working formally with NASA and has been part of the Mars Maven project.
Sorensen said STAR was intrigued and NASA people were intrigued with STAR because it is solar powered and off-grid.
"Whatever kind of colony is going to exist on Mars is going to have to be solar powered," he said. "The Mars Maven orbiter is also solar powered and we think we have something that we can not only learn from them but they can learn from us."
The kids learn about taking western scientific knowledge out to the limits but they also learn something else.
"At the same time we are utilizing traditional Navajo wisdom keepers who can teach the kids about Navajo astronomy, what Natives have noticed in the star patterns over centuries," Sorensen said. "So we do believe you can teach both sides of this knowledge and you have a more complete knowledge if you do recognize the value of both approaches."
Noodle is an education website helping parents and students make better decisions about learning. Using interactive search tools, families can find the right preschool, college, tutor or any other learning resource. In addition, they can read expert-authored articles, ask questions and get answers from some of the leading minds in education, and connect with others in their communities.
More information about Noodle is available at www.noodle.com.