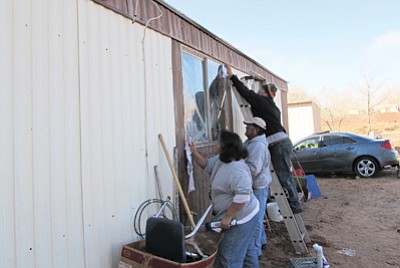 Originally Published: October 20, 2015 10:06 a.m.
FLAGSTAFF, Ariz. - Just in time for winter weather, Red Feather Development Group is offering free two-day weatherization workshops for people on the Hopi and Navajo reservations in late October and November.
Red Feather Development Group is a non-profit organization that serves American Indians in Arizona and Montana and is dedicated to ensuring safe and healthy homes for all American Indians.
Classes are generally limited to about 15 people. Participants will learn how to weatherize their homes and keep them in good working order. Every participant will receive a weatherization kit (valued at $150) upon completing the class. Advance registration is required. The class runs 8 a.m. to 5 p.m. both days. Classes will take place in Moencopi at the Lower Community Center Oct. 24-25, Kykotsmovi Community Center Nov. 7-8 and Tuba City Chapter House Nov. 14-15.
Education Director John Marian said in the Southwest Red Feather encounters everything from traditional rock built homes, to more modern stick or cinder block homes, to Housing and Urban Development homes on Hopi and then Navajo hogans either done in lumber or cinder and other traditional material.
"Generally speaking, weatherization is the process of air sealing and adding insulation to a home," Marian said. "It is done differently depending on the type of construction you are dealing with."
The result of weatherization is reduced utility bills. The two weatherization measures that generate the most energy savings are air sealing and adding insulation. These are largely invisible and much of the work can be completed by any homeowner.
In the do it yourself weatherization classes, Marian employs a pay it forward mentality. They visit students' homes and weatherize the homes with hands on practice.
"We assess and come up with a plan," Marian said. "Because it is a class we come up with a set number of weatherization measures that we plan to install. We also give them knowledge to go beyond the four hours we are at their house."
They weather strip doors, apply window films to exterior windows and caulk around trim both interior and exterior.
"I don't want people going up in the attic," Marian said. "We do it all kind of at eye level. We show them how to caulk, show them how to identify these areas and how to apply the materials and then arm them with the information to add more things later on."
Participants are instructed on how to get up in their attics to fix various things like electrical holes or recessed lights.
"I think [the classes] are important because it teaches them why their home is the way it is," Marian said. "Whether it is hot or cold, it teaches them strategies to make their home more comfortable. And hopefully reducing their bills. It provides a hands on experience to make their home more comfortable."
More information about registering for the weatherization classes is available by calling (928) 440-5119.
More like this story