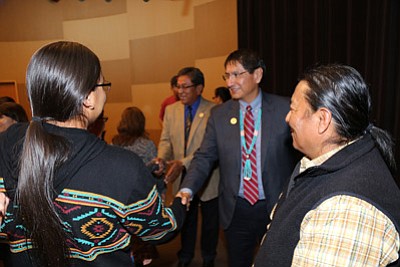 Originally Published: October 13, 2015 11:05 a.m.
FLAGSTAFF, Ariz. - Navajo Nation President Russell Begaye and Vice President Jonathan Nez expressed their sadness over a shooting that took place at Northern Arizona University (NAU) Oct. 9.
NAU's police department responded to shots fired at 1:20 a.m. The incident took place on the northeast end of NAU campus. Colin Brough was killed and Nicholas Piring, Kyle Zientek and Nicholas Prato were injured.
Steven Jones, an 18-year-old from Glendale, Arizona, a freshman at NAU, was arraigned Oct. 9 by video. He was charged with four felony counts: first-degree homicide and three counts of aggravated assault, which are being charged as felonies. Jones did not enter a plea at the hearing.
"All life is sacred and the loss of any life is tragic," Begaye said. "Both Vice President Jonathan Nez and I are offering prayers for all those involved and affected by this terrible tragedy."
Begaye and Nez thanked the NAU police department and the Flagstaff Police Department for responding to the incident in a rapid manner. They encouraged any students or faculty who were suffering because of the incident to seek counseling.
"In this time of tragedy, the Navajo Nation stands by the university and mourns the tragic loss of an NAU student," Nez said.
Begaye noted that many Navajo students attend NAU and both he and Nez are concerned about their safety and protection.
"In light of this shooting, the office of the president and vice president would ask NAU to heighten security measures to further protect the lives of all students attending the university," he said.
U.S. Senator John McCain released a statement Friday morning.
"My thoughts and prayers are with families of the person who was killed and the three others who were wounded in the horrific shooting on the campus of Northern Arizona University in Flagstaff early this morning," the statement read. "I appreciate the efforts of all state and local law enforcement officials, first-responders and school administrators, and continue to pray for the recovery of the injured, as well as all those in the NAU community who have been impacted by this terrible tragedy."
NAU Chief of Police Gregory T. Fowler said further investigation of the scene would take place after the sun rose and provided more light.
Begaye and Vice President Nez visited NAU Oct. 11 at the NAU Native American Cultural Center, Building 14, to meet with Native students and faculty.