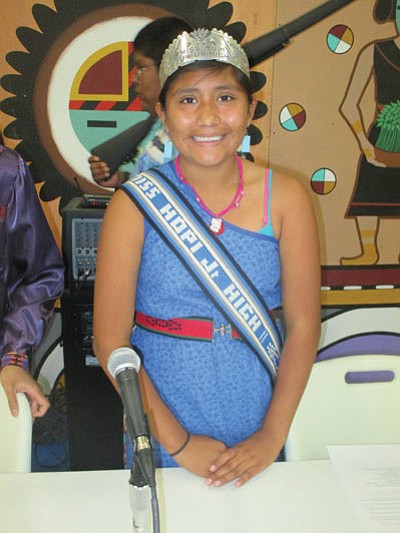 Originally Published: October 6, 2015 2:17 p.m.
POLACCA, Ariz. - Hopi Jr./Sr. High School royalty was out in full force on Indian Day Sept. 11 in the Bruin gym.
The top royalty includes Miss Hopi High Jeanine Gaseoma, Mr. Hopi High Kaden Mahle, Miss Hopi Junior High Youiwmana Pooyouma and Mr. Hopi Junior High Leland Pooyouma.
Gaseoma, a 14-year-old freshman, said it is an honor to represent the school and community. For her talent, she sang a Tewa song about needing moisture for the crops and the people.
"I will try to the best of my ability to represent our school, community and myself," she said.
Gaseoma said her parents told her that they were proud that she became royalty so she could represent her family in a good way. During the royalty contest she wasn't nervous because she couldn't see the crowd because she wasn't wearing her glasses.
Gaseoma, an A-B average student, is in the National Junior Honor Society and serves as the manager for the Bruin football team. She plans to attend Arizona State University to major either in physical therapy or special education.
Mahle said he was excited and proud to become Mr. Hopi High so he can represent his tribe. For his talent, he sang a Hopi song about corn and the lack of moisture.
Mahle said his duties will focus on making every event possible to represent the school His parents told him that it was an honor and a pleasure for him to become Mr. Hopi High.
He said he wasn't too nervous during the competition because he had done it previously.
"I'm glad to have this position and represent my tribes," he said.
Mahle is Hopi and Pima.
He had an A/B average last year and made the honor roll. He plans to attend the University of Arizona with the hopes of becoming a lawyer.
Yoiwmana Pooyouma, a 13-year-old eighth grader, said she was honored and surprised to become Miss Hopi Junior High.
"I didn't think I would win," she said.
For her talent, Pooyouma sang two songs in Hopi and Tewa about girls getting ready for a dance.
Pooyouma said as Miss Hopi Junior High her job is to be a good role model for the other students. Her parents told her that they were proud of her, told her to be a role model and fulfill her responsibilities as well as respecting everything.
Pooyouma said she was nervous during her competition because she is shy. She is an A/B student and on the honor roll. She is active in Gifted and Talented (GATE).
She plays basketball and softball as well as running cross country.
Pooyouma plans to attend either Northern Arizona University or Haskell College to major in criminal science or anthropology.
Leland Pooyouma, a 12-year-old seventh grader, said becoming Mr. Hopi Junior High was amazing because his sister also won.
"Now we can do everything together," he said.
For his talent, Pooyouma sang a song about Hopi crops. He also plans to be a role model so "people know who I am and see that little kids can be royalty too."
Pooyouma said he is proud to keep up the tradition. His parents told him that they loved him and they wanted him to win. They also told him not to be scared, but just to be himself. He was a bit nervous though when he heard the large audience clapping.
Pooyouma maintains an A average and is an honor roll student. He serves on the Hopi Youth Council as the sergeant-at-arms. He also plays basketball and football and runs cross country. He hopes to become a professional basketball player. He plans to attend Oregon State.
"I want to tell all little kids to keep going and don't give up. Respect your elders because they take care of you," he said.