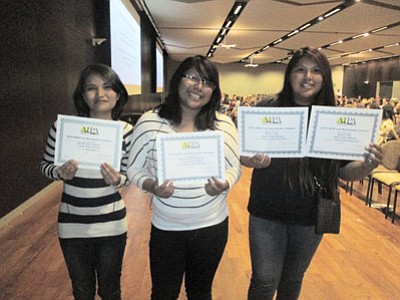 Originally Published: November 17, 2015 10:32 a.m.
TEMPE, Ariz. - Students in Hopi High School's media program won seven awards at the Arizona Interscholastic Press Association (AIPA) Conference Oct. 27 at Arizona State University in Tempe.
Hopi High School remains the only Native American high school in Arizona to win awards from AIPA each year and the only school north of Sedona to win these prestigious awards.
Hopi High won four awards for radio and three awards for its print journalism program. These awards were based on last year's work.
Aside from the awards, the Hopi High students gave presentations about the Hopi High Teen Show and the First Amendment. The Hopi High Teen Show is the only live remote Native American teen talk show in the nation. It goes out over KUYI and streams online at KUYI.net
Hopi High was the only high school with students presenting sessions; the only other presenters were professionals or college stu-dents. Victor Aronow from Radio Phoenix joined the Hopi High Teen Show students to talk about how students could get more involved in radio.
Radio students Storm Tso, Krienne Pahovama, Elysse Honyouti and Reyna Lomayaktewa presented.
Katrice Puhuhefvaya, Kursheena Yazzie and Kristen Russell presented about the First Amendment were.
Hopi High video personality Brenda Dacawyma interviewed newscaster Nick Ciletti from Channel 15.
Yazzie, a senior, won the highest award for Hopi High earning an "Excellent" for her public service announcement about suicide prevention.
"I had no idea that I won an award," she said. "When I saw I won an award, I wasn't excited. I was happy I won an award, but at the time I was preoccupied taking pictures. However, I'm happy I won an award. It is something I'll always remember after I graduate."
Tso, a senior in the advanced radio class, won two awards earning honorable mentions. The first state award was for a news story about last year's homecoming king and queen. The second state award was for a commentary called "Emancipation is Important."
"I thought that it was great that the radio and journalism won awards," she said. "I was surprised that I won two awards because I didn't even know that I was even going up for any awards. I didn't expect that we would get that many awards."
Katrice Puhuhefvaya, who won a national media award last year, also won an honorable mention for a sports story about the "Navajo Yes" program.
"I was happy I won an award for my last year attending," she said.
Micah Chee, a senior in the advanced print journalism class, won two awards. His first award was an editorial about the First Amendment.
Jennifer "Grasshopper" Huma, last year's editor of the Bruin Times, earned an honorable mention for her story about Puhuhefvaya's national award.
Elysse Honyouti, Krienne Pahovama, Reyna Lomayaktewa, Kristen Russell and Amber Polacca also attended the conference.
Honyouti, a senior, said the conference was informative, interesting and well organized.
"The radio and journalism awards were cool because there was a lot of kids there and out of our little school people from here got awards. That's something that I thought was cool and interesting," she said.
Pahovama said the radio and journalism awards were great because it showed the type of hard work that goes into the program and recognized the students for their efforts.
"It's like a confidence booster to be able to receive an award. It's very encouraging and a very honorable award to be able to be awarded a state award," she said.
Brenda Dacawyma, a video student, said she was surprised when she heard Hopi High students names called for awards.
"I'm proud of my fellow classmates who won awards," she said. "Out of so many high school students, five of ours won awards. We were all happy for them. In the future, I hope our students win more awards."
Lomayaktewa, a junior, said the award announcements would have been more interesting if they gave more details about what the winners did and how they won their awards.
Polacca, the only freshman on the trip, said she learned a lot about radio, had a chance to meet Channel 15's Ciletti and enjoyed the trip because the upperclassmen treated her like everybody else.
Second story
Keynote speaker Nick Ciletti gave a powerful speech about overcoming pediatric cancer. He loves meeting other cancer survivors. Ciletti is an anchor and reporter for ABC Channel 15 news in the morning.
Brenda Dacawyma, Hopi's video personality, enjoyed interviewing Ciletti on video.
"He gave us some pretty good answers and the tips he gave will also be very helpful to me," she said.
Dacawyma interviewed Ciletti after his speech while the awards ceremony was going on.
"I really didn't like that we interviewed him just outside that room. It was too noisy and people kept interfering with the interview. It could have been better, but, hey, at least we got an interview in," she said.
Storm Tso, a radio student, said Ciletti's speech was interesting, especially overcoming everything he had to go through.
"It was pretty sad hearing about how he had cancer when he was a baby," she said.
Kursheena Yazzie, radio student, said she has seen Ciletti on TV.
"He seems to be a bright and happy person to talk to in person. His work seems to be very serious to him," she said.
Krienne Pahovama, a radio student, said Ciletti's speech was great because he interacted with the audience and related a lot of his life to the audience.
Elysse Honyouti, a radio student, said Ciletti's speech was good.
"I thought it was pretty cool how he is a cancer survivor," she said. "Brenda did a good job with the interview and it was cool seeing and talking to him one on one," she said.
Kristen Russell, a former radio student, said she enjoyed Ciletti's speech because of how he overcame his struggles involving health problems and how he didn't listen to people who didn't share his dream to become a journalist.
"I found his speech inspiring," she said. "It gives me a second thought of who I want to be in the future and how I want to live my life and do what I want to do and not listen to the people who want me to live their dream."