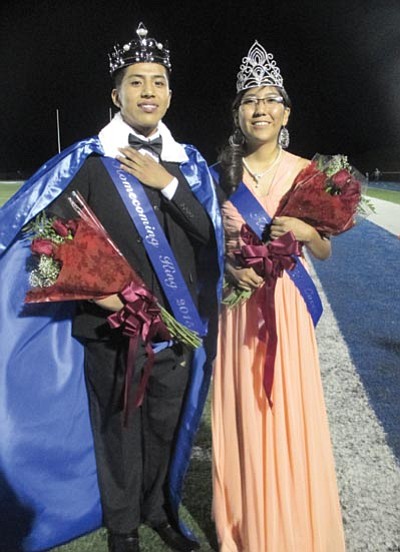 Originally Published: November 3, 2015 10:09 a.m.
POLACCA, Ariz. - Dairon Norris was crowned homecoming king and Elysse Honyouti was crowned homecoming queen Oct. 16 at Hopi High School's Bruin Stadium.
Norris, a senior, said he was happy, nervous and excited about becoming homecoming king.
Norris said the other four contestants made the vote competitive.
"I thought I was going to lose because the other guys are popular," he said.
As homecoming king, Norris said he considers himself a role model.
"I want to be a positive role model by doing well in school and encouraging students to reach their goals," he said.
Norris said his role models are his mother Rhonda David and his grandparents Neil David Sr. and Dealva David. He said his mother has battled cancer for eight years and that has given him strength. He said his grandparents are great role models because they work hard and provide for seven people in their household.
"That's a tough job," he said.
Norris wants to major in criminology at either Arizona State University or Northern Arizona University. He is president of the senior class so he helps out at every fundraiser.
Norris said his message to his classmates is to keep their grades up, and don't use drugs and alcohol.
"I want to be a positive influence for other students and I want everybody to treat each other with respect. The sky is the limit because footprints are on the moon," he said.
Norris sends a shout out to his mom and grandparents for being there for him during his time of need.
Honyouti said she was overwhelmed but happy about becoming homecoming queen. She added that she was surprised that she won. She said she does not think of herself as a role model, but her role models are her father and older siblings.
Honyouti's message to her fellow students is 'don't be afraid and step out of your comfort zone.' She has not decided where she wants to go to college or what she wants to major in.
Honyouti is active in the Hopi High Radio Class and the Hopi High Teen Show.
More like this story