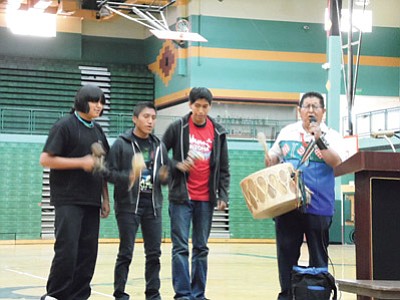 Originally Published: May 12, 2015 10:14 a.m.
TUBA CITY, Ariz. - American Indians who reside all over the United States speak about the importance of native language all the time.
But with so many Native Americans forced to live off the reservation in metropolitan cities or towns for work or school commitments, daily tribal conversations and language use is down. Speaking a native language on a daily basis becomes even more difficult because English is the only language used for teaching or work related purposes in off-reservation settings.
Even with these difficult off-reservation language circumstances, steps can be taken locally starting in the home that assist, support and make a difference in tribal language retention - that can be reinforced at schools and school related activities.
Tuba City Unified School District stresses the importance of tribal language in its mission statement but also schedules regular year round school activities that reinforce the special cultural and language status that American Indians are born into. These activities support tribal culture and language for the students who attend K-12 schools.
Native Language Week was April 27 - May 1 at all seven of the district's schools. Each day featured tribal presenters on topics like art, history, language, song making, water conservation, moccasin making and horsemanship. Middle school students took a field trip to the Navajo Nation Museum in Window Rock, where contemporary and historical tribal exhibits are on display.
On the final day, adult and students gave presentations on tribal dance, tribal song and even tribal humor.
The weeks' presentations included Hopi and Navajo traditional arts and showcased some more contemporary tribal art and culture resource fields of study.
Each day of the week students participated in athemed activities like "Moccasin Day" or "Traditional Hair Style Day" or "Traditional Jewelry Day." Myra Kaye gave a presentation about Navajo pottery.
Nabahe Hill explained to students and staff members the significance of the Sweat Lodge in tribal cultural events.
Robert Manygoats took on the topic of painting and art in both a contemporary and more cultural based format.
Etta Black Miles showcased the Navajo Wedding Basket and its meaning and also gave several presentations on Navajo traditional food.
Thomas Yellowhair spoke to the students about basket and moccasin making sharing his expertise with his own tools and final products.
Helena Begay sang and shared Navajo traditional songs with the students, telling them how she learned the songs and why she continues to sing and teach them with her community and family members.
James Bilagody spoke to students about songmaking and language use.
Fred Johnson spoke to students about both traditional and contemporary water conservation concerns while living on the reservation and how students can practice good water use in their own homes.
Edward Whitethorne spoke to students on the care of animals. Navajo horsemanship was one of the most popular topics for the students who have animals such as horses, cattle or sheep as part of their family lifestyle.
Hopi tribal members also were a highlighted group of presenters this week, with Tuba City High teacher and cross country head coach Arvis Myron of Mungapi Village organizing a Hopi dance group who appeared at several of the schools during the week. Myron shared the meaning of the dance performance and what responsibilities come with Hopi dance activity.
Along with Myron, Evan Nuva Dawavendawa, a former Tuba City High Warrior student spoke about contemporary Hopi art and shared his own award winning art work with students and staff.
Rhonda Sahu shared her skill in Hopi pottery making and shared her own personal creations with the students. She let them know that the Hopi traditional art form is a viable and important career for someone who is serious about pottery making.
Clark Tenakhongva from the Village of Hotevilla is a Canyon Records performing artist who also is a master award winning kachina carver. He performed on the last day of language week at Warrior Pavilion. Tenakhongva sang four of his songs from his last CD and gave away a few CDs to students who joined him on stage to sing one of his songs.
Tuba City High student Lavin Haskey gave a heart stopping performance of Fancy Dancing to a capacity crowd at the Pavilion as well. His performance was met with loud chants and clapping from his peers on his powwow fancy steps.
Navajo lecturer and traditional elder James Peshlakai was also on hand to give a quiet and dignified presentation on the importance of remembering who Native people are and that language is what makes Natives so unique and so very different than other people in this country.
"No one else is like we are...we have history, we have individual tribal languages and traditional lifeways and we are the original landlords of this place, but we must take care of it, remember to take care of it and remember to speak your language so we continue on," Peshlakai said.