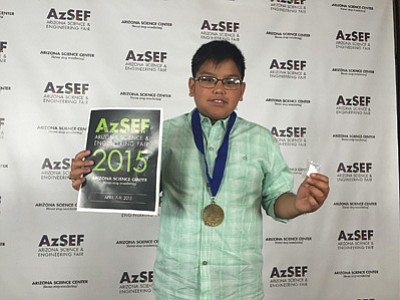 Originally Published: May 12, 2015 10:21 a.m.
TUBA CITY, Ariz. - Eagles Nest Intermediate School (ENIS) student Geronie Pesodas, age 12, took home the Arizona state chemistry award for his project "Effects of Acid on Teeth Enamel" at the annual state science and engineering contest.
More than 896 students entered the contest this year.
Students could only qualify for this final contest at the state level if they had already won in contests at their local school and then at regional state science contests.
Students from more than 1,124 schools all over the state competed in the final April event in Phoenix.
Pesodas is the son of Clarence and Genoro Pesodas from Tuba City. He has two older sisters who are also interested in science.
Pesodas has always had an interest in science and math and he wants to become a marine biologist in the future. He was surprised about his recent win, since there were so many other competitors at the state meet.
At the larger reservation competition at Churchrock, New Mexico in March students from public and Bureau of Indian Education schools competed.
The mission statement of the Arizona Science and Engineering Fair is "to support and provide guidance to students and teachers in the state of Arizona to ensure the continued availability and vitality of scientific inquiry."
His parents, ENIS Principal Dr. Justin Roberson, his teacher-science coordinator Mary Clark and several ENIS staff members supported Pesodas in his science endeavors.
Pesodas' winning project submittal looked at which energy drinks were corrosive to human teeth enamel. He found that Monster energy drink was the most harmful because of its high acidic content. Pesodas originally thought that Rock Star energy drink would be the most corrosive because it listed three separate acids as part of the drink content.
The energy drinks' corrosion levels were tested on egg shells in place of human teeth.
Pesodas was awarded a state championship certificate and a special medal for his efforts and he encouraged his fellow students to also participate in scientific inquiry saying that they also could win at the state level if they "just believe in yourself and don't put yourself down."