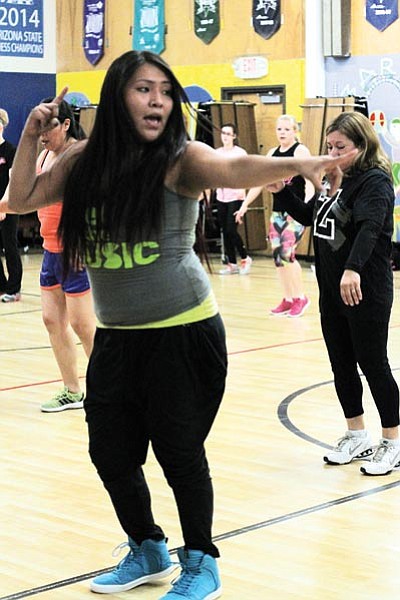 Originally Published: March 17, 2015 10:16 a.m.
FLAGSTAFF, Ariz. - Being Navajo and teaching Zumba has given Northern Arizona University (NAU) student Berta Descheny a way to reach out to not only her fellow Native Americans but also to everyone wanting to share in a life changing experience.
Before 2009, Descheny had never been to a Zumba class. Now she is one of around 20 Zumba instructors teaching in Flagstaff.
Zumba is a dance fitness class created by Colombian dancer and choreographer Alberto 'Beto' Perez in the 1990s.
On average Descheny has more than 40 people show up for the hour-long class, with each class burning up to 800 calories - especially in Descheny's high intensity level class.
"I'm originally from the Navajo reservation," Descheny said. "It's a little place called White Cone, between Dilkon and Indian Wells. I was born in Flagstaff but I was raised out on the reservation."
She moved to Flagstaff with her family when she was in high school and now attends NAU.
Always interested in a degree that would help others, she started out studying nursing but changed her degree to physical therapy. Part of her decision was based on her blossoming love of Zumba.
"Zumba got me more into being healthy," she said. "More of that field - like physical therapy, physical training and athletic training - it got me more into all that - and a lot more interested."
In addition to school, Descheny works 10-hour shifts as an inspector packer at Prent, a medical distribution center in Flagstaff and has been married for more than two years.
"He's originally from South America, from Chile," Descheny said. "We are like high school sweethearts - we met when we were in high school."
Little did Descheny know her in-laws would play a huge role in her life.
"My boyfriend (later husband) at the time - his dad is actually a Zumba instructor as well and he was like, 'Berta, come to this Zumba class, it's really awesome, it's new,'" she said. "So I tried it out and it was a horrible first time for me. I did not know anything. We just kind of danced around in the back."
That is how many people start their Zumba career, according to Descheny - dancing, uncoordinatedly and self-consciously at the back of the class.
"I had problems with it for like a month and then I started progressively getting better," she said.
Perseverance is part of the trick. Two years later Descheny said she was confident and had improved so much that family and friends encouraged her to become a certified instructor.
So she went for it.
"I got certified in 2011 and then the gym at Killip (elementary school) opened up to me," she said. "So I did the class for free for a couple months and then I charged a dollar or by donation and then they just had a set fee of $2."
Descheny still only charges $2 a person for an hour long, high intensity Zumba class.
From dancing around at the back of the room to getting certified, Descheny now teaches Zumba style dance techniques ranging from salsa, cumbia, merengue, reggaeton, samba, hip hop, belly dancing and tango among others.
In the beginning only one or two people showed up for her classes and she was not sure if it would work but hard work and dedication paid off.
"I just kept going," she said. "It grew and grew and grew and everyone loves it now, they keep coming back. It's great."
According to Descheny one struggle to starting a Zumba class is technique and being able to maintain the energy level and positive attitude.
"Anyone can get certified but I think the struggle is when you can keep the class going. It's like how long can you keep it, that's where the hard part is," she said. "That's why in my class I'm like 150 percent energy, so everyone will be doing the same thing as I do. I turn up that music and I yell at everyone and they're fine afterwards."
Descheny encourages those who have never tried Zumba, to try it for several reasons.
"Your body's getting coordinated, you're losing weight and calories, you're socializing with other people and you're getting out of your comfort zone," she said. "It just kind of gets me away from everything in my life, like school and work. Zumba is like a stress reliever for me. It's part of my life now."
In the future Descheny said she would love to take Zumba back to the reservation and see it work in the lives of people there.
"It's slowly reaching the reservation," Descheny said. "I've talked to several people about teaching in Tuba City but I haven't heard anything back yet. That's what I would love to do - teach on the reservation, it would be great. I would love to reach out to other places like Tuba City and Window Rock."
For now Descheny is focusing on finishing her degree and enjoying the experiences and benefits Zumba has for her and her students.
"I think it's important because I really care about my students. I feel like I know them more on a personal level and that's what pushes me to do it," she said. "It's important for them to keep up what they're doing because if they stop they won't want to come back or they'll get out of the routine."
As well as being a certified Zumba instructor. she is also qualified to teach Zumba toning. Descheny's classes meet three times a week on Monday, Wednesday and Friday at 7 p.m. at the Killip Elementary School in Flagstaff.