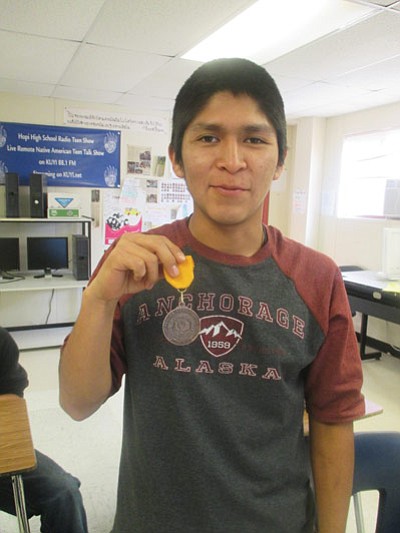 Originally Published: March 3, 2015 10:15 a.m.
POLACCA, Ariz. - Hopi High Wrestling Coach Jimmy Carl beamed after his squad placed second at sectionals and made a respectable showing at state. Top Bruin wrestler Adam Laban was also ecstatic after winning a championship medal at sectionals and winning another medal for placing fourth at state.
Laban said his performances at sectionals and state felt awesome because it showed his hard work was worth it.
"I was also relieved to win," he said. "But it was really good to win sectionals because that's the first time I came in first all year. Coach Carl said placing fourth at state was exciting because I made it to the championship round, so he was happy for me."
Laban, also an exceptional student, plans to major in construction management at either Northern Arizona University, Arizona State University or Ft. Lewis College.
"If the opportunity is there to wrestle in college, I'll do it," he said.
Hopi High finished 18th out of 42 teams at the state meet in Tim's Toyota Center in Prescott Valley. The only team from sectionals that finished higher was Tuba City High School. Camp Verde High School emerged as the champion.
Carl said Hopi High's best finish in years had a tremendous impact on his wrestlers.
"We take kids to state every year, but this is the first time in seven or eight years that we had a wrestler medal," he said. "It's so competitive at state. I was pleased with Adam placing fourth because it's so hard due to the tough competition. This will open the door for his teammates in the future."
The other Hopi High wrestlers who qualified and went to state were Sonny Silas, Kyle Secakuku, Grant Pashano, Albayzion Honwytewa and Diana Taylor. Carl said three other upcoming wrestlers are Josh Lomayestewa, Irvin Chee and Jason Laban.
"We should have taken ten wrestlers but cultural activities kept some away," he said.
Carl noted that champion Camp Verde has a year-round wrestling program.
"We did well for a seasonal program," he said.
Hopi High placed second out of the 12 teams in its section. Carl said Laban's championship medal at sectionals gave him the confidence he needed to place at state.
"Adam is responsible and he was focused on his workouts at state," Carl said. "He could wrestle at a junior college next year, but that's up to him."
Carl said next year's Bruin wrestling team should be even better.
"We could have two or three medal at state next year and break into the top 12 as a team at state," he said. "We can win sectionals next year. Window Rock won sectionals this year, but none of their wrestlers medaled at state."
Carl said the Hopi High wrestling program could be exceptional next year if the parents and administration support them. He said parents need to follow their children to the competitions and the administration can help by coming up with new mats for the wrestlers. Carl said the mats the wrestlers use at the school are the same that the school had when it opened.
"But we already have a good program that represents the community well," he said. "We hope to have a summer program this year to continue the work with the kids. During summer, we can work with the kids more one on one."
Aside from placing at state, Carl said his focus is teaching youth about life skills so they can be successful in life, especially when challenges arise so they can overcome adversity. Carl was proud that he didn't lose any wrestlers this season to drug or alcohol infractions. He lost three students to academic ineligibility and some to cultural dances.
"When it comes to drugs and alcohol, I tell my wrestlers that you need to take care of your body. Wrestling is a hard contact sport and you need to be ready. Only a few students are meant to be wrestlers," he said.
The Hopi High wrestling team will lose Millie Koinva, Pashano, Taylor and Laban to graduation. Carl's assistant coaches were Terrance Morgan and student coach Star Not-Afraid.
Laban's thanked his teammates for a great season and hopes they keep working hard. His message to incoming wrestlers is to learn their techniques and work consistently throughout the season to keep their grades up.
"Also have fun with wrestling," he said.
Laban is the son of Ronald and Romalita Laban of Polacca.
More like this story