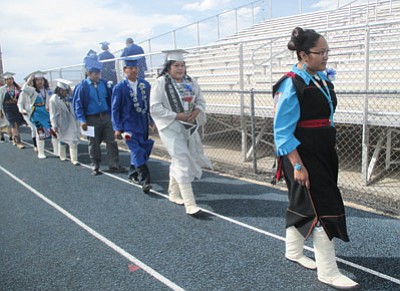 Originally Published: June 2, 2015 9:30 a.m.
POLACCA, Ariz. - Dr. Jeremy Garcia told Hopi High School graduates that he wants them to see the possibilities in their future.
Garcia was the keynote speaker at the Hopi High graduation ceremony May 21 in front of thousands of parents, family and friends packed into Bruin Stadium.
Garcia, a 1993 graduate of Hopi High, recounted how he worked his way through college at Footlocker.
"I have seen and smelled a lot of shoes," he said.
His point was that he came from humble beginnings and had to provide for himself like many of today's graduates will have to do.
Garcia said the graduates should be proud of their Bruin buses because when he went to Hopi High he only had the yellow buses to ride.
"I'm glad to see those improvements," he said.
Garcia also praised Hopi High science teacher Lavonne Adams for working with outside programs such as the Hopi-Harvard program. This program allows Hopi High students to study at Harvard Medical School during the summer.
He told the students not to forget their history. He questioned how he could grow up on the Hopi Reservation without learning how to speak the language fluently.
"The question is how do we find balance? We need our indigenous values to guide the process," he said.
Garcia teaches at the University of Arizona, but he earned his BA in elementary education from Northern Arizona University before earning an MA at Michigan State and his doctorate at Purdue University. He also previously taught at the University of Wisconsin at Milwaukee.
He learned about diversity while going to college at Purdue when the question became how he navigates a system that was mostly white. He had to start by discounting the stereotype that he lived in a teepee.
"I realized what inequities mean," he said.
So, he found ways to relate to African-Americans, Hispanics and Muslims. Garcia said the lack of diversity at Hopi was part of the decision that came for him to move away. His college experience dealing with other races caused him to think deeper about what race, gender and wealth means in the larger society.
"Think about what will be your journey. What it means to live in distant places, but be true to where you grew up," he said. "It's a double-edged sword."
Garcia asked after getting an education if students return to their homeland who do they become? He was often asked when he would come home and why he choose to work somewhere else. He spoke about fellow Hopi educator Darold Joseph, who is working on his dissertation at the University of Arizona. Joseph was also asked these questions and usually replied that he was not ready to come home.
Garcia emphasized that "your identity makes a difference."
"Our voices and our narratives count," he said.