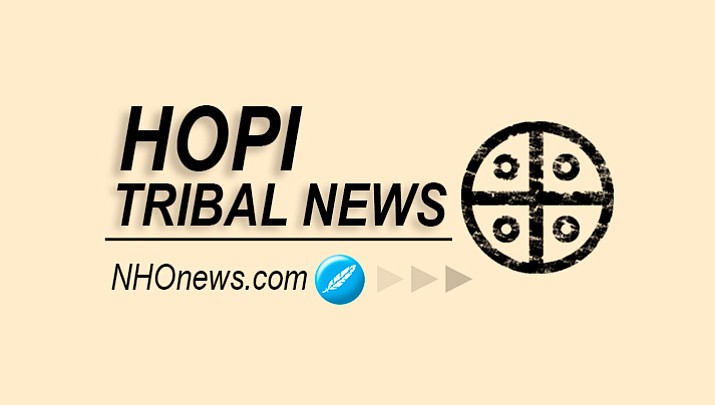 Originally Published: June 2, 2015 9:59 a.m.
HOPI, Ariz. - How do you make people understand something that cannot be explained? This is the struggle the Hopi Tribe faces today as another auction took place Monday in Paris, France selling what tribal officials said are "Katsina Friends."
Efforts by federal U.S. agencies and the tribe to stop the auction failed. But stopping any auction is only part of the problem the tribe faces. Getting people to understand why it is wrong to sell, and even to talk about, the "Katsina Friends" is the real issue - one that makes it hard for the Hopi to advocate for themselves with a subject that is painful and one that affects every Hopi in the same way.
Leigh Kuwanwisiwma, director of the Hopi Cultural Preservation Office, said that every child, every Hopi individual, eventually gets initiated into what are the tribe's "rites of passage," which goes into adulthood. The rites of passage are not known outside of Hopi and they are not meant to be.
"When you grow up into a culture that is really supported in many, many ways, through just the cultural behavior that you grow up into, the communal aspects of your family and how the extended family is a part of you and everybody else in the village is a part of you," he said. "And then because of our kinship system, we ultimately are all one."
But that is something that people who are not Hopi do not and cannot fully understand.
Kuwanwisiwma points out that the French people and the French government, which both benefit financially from the auctions, are far removed physically and culturally from the Hopi people. And the argument back to the Hopi from the French is that the sale of Native American objects is nothing new, so what is the problem?
And they are right. The marketing of Hopi objects dates back to the turn of the century when museums were under pressure to salvage the American culture.
"When they came to Hopi, the Hopi were nowhere near extinction in the 1880s when the museums began to first come in for collecting," Kuwanwisiwma said. "We were nowhere near extinction."
In fact, he said at that time, in his grandfather's era, all of the Southwest tribes, and the Hopi, were at their cultural height - something that did not matter to the collectors who thought they had found a gold mine - even if they found it within a living culture.
Kuwanwisiwma said the excess items that museum collectors took from reservations dispersed into private hands. The private collectors themselves created the market for what they termed "art" and created a price and a value.
"This is nothing new," Kuwanwisiwma said. "It has been ongoing more recently through different auction houses within the United States - Butterfield, Christie's and private sales. It's been there, during my tenure, but it has never been this publicized until the French auction came around in 2013."
That auction sold 65 "sacred Kachina Friends," said Kuwanwisiwma, who was surprised and hurt by the antiquity.
"[They] are rarely seen even by Hopi's," he said, adding that they are what was likely looted early on from the Hopi reservation. Without a police report, without a suspect, the tribe is not able to even prove that they were taken illegally from the reservation.
"I can't prove that," Kuwanwisiwma said. "Some of these items were taken at the turn of the century. We don't have an inventory of stolen items. It is not enough to convince law enforcement."
But they were never meant for anyone who is not Hopi to even see.
"The difference between Hopi and these auctions that are going on is that they have no idea how embedded the Kachinas and the Kachina Friends are in every Hopi person's, I suppose you would say, soul," Kuwanwisiwma said, pointing to his heart. "No idea."
And that is part of the dilemma for the Hopi people. How do you describe something that is part of your soul, the emotional and human aspect of it? How do you explain to people that they have no monetary value, that they cannot be bought or sold, that the return of them to the Hopi people cannot come with a tax write off, that they are not "art?"
"We will never put a price tag on our sacred objects," Kuwanwisiwma said. "We never have and never will because they are living entities. That is what we consider these people, these spirit people."
For those reasons, the auctions affect every Hopi person, personally. Whether it is Snowbowl and its connection to the Hopi or the auctions, both have had an impact on Hopi that will not go away.
"We're not relics," Kuwanwisiwma said. "We're a living culture. We have ceremonies that go back thousands of years. We bring down into our Kiva that negative thought and this is no different. It's harmed the Hopi people forever."
The EVE auction house has said in the past that it is merely honoring Hopi and reflecting people's love and interest in the Hopi culture. And while media outrage occurs when an auction takes place, that interest fades as times goes by.
"The blatant disregard for our voice in French court and through the media that's what also really [causing] the lack of understanding," Kuwanwisiwma said. "For Hopis it's forever. That's the harm. The sale of these items, which are a part of our soul, should not be happening, period."
Kuwanwisiwma said that in "order for someone to really understand why [they] cannot be sold, they have to grow up in the culture." And most people's experience is different than the Hopi's.
"They have no idea who we are," he said, despite Hopi being global, with thousands of websites and interpretations of their culture by people who are not Hopi. "They know absolutely nothing about the culture and how it's managed to survive. The auctions themselves contribute to the threat on the culture."
For the Hopi, the future of their culture may come down to seeing if people, not just the French, can understand that there are limits to what the Hopi are able to share with the public, as open as they are. They have never asked people to be a member of Hopi because that is not possible. One is either Hopi or one is not.
Hopi Tribal Chairman Herman Honanie said the tribe is struggling with how to deal with the curiosity that people have about the Hopi. In the future, he said, they may have to become more private in order to survive.
"We ourselves to a degree, we're open," he said. "We want to be hospitable, we want to be friendly and be respectful and that has always been Hopi's nature. But that is what has worked against us in that respect. What has to be our next step? We're so open. But do we really and actively consider the options [to become more closed]?"
That is controversial on the reservation and the limits on what can be said about its belief system is the thing that makes people more curious about Hopi - everybody wants to write a book, everybody wants to buy art.
"We're saying, 'this is ours,'" Honanie said. "Why is it that they can't simply respect that?"
More like this story