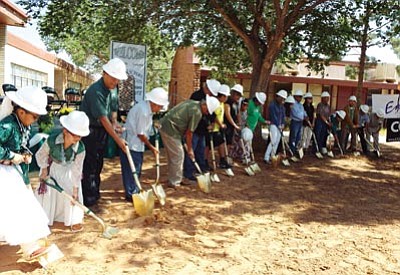 Originally Published: July 14, 2015 10:24 a.m.
The future of education future is here with the groundbreaking of a new kind of school building at Tuba City Unified School District in Tuba City, Arizona. The final projected cost will be $12.9 million.
The groundbreaking ceremony for the new digital elementary school took place June 26 at Eagles' Nest Intermediate school in uptown Tuba City. Hopi and Navajo cultural and language professionals, Stanford University professors and officials, district administrators and current students will begin learning and working in the new building by December 2016.
Since July 1999, under the guidance of current district Superintendent Dr. Harold G. Begay, the district has been a part of the Education Programs for Gifted Youth (EPGY) program through Stanford University along with online Stanford University Pre-Collegiate Studies and the Stanford Program of Inter-Cultural Education (SPICE).
As the Tuba City Unified School District began its on-line digital curriculum along with the highest achieving schools and district in the state in 2011, school staff began to recognize that the original TCUSD school buildings, which were built in the mid-1950s and early 1960s, were not suitable for 21st century digital education.
After much discussion and public meetings with parents and community members, the current governing board approved moving forward with a new K-5 elementary and middle school building with a bond election in November 2014.
After much planning in 2012, the new TCUSD K-5 digital elementary school became a reality with a groundbreaking ceremony.
"We have been most meticulous in our planning for the new school as this project is a major investment in the future of our children and grandchildren," Begay said. "We want to address foremost the digital divide and the equality of educational opportunity for our school children and students. We defied conventional wisdom that we should construct a typical school building with rows of classrooms divided by hallways, building a structure that that may have met the needs of times past. Instead we focused on a new building in a new teaching and learning environment that would facilitate and prepare our children for the future fifteen to twenty years from now. We currently have a generation of children in the digital world and critical questions arise as to how we must be prepare our children to successfully navigate and transverse this far-reaching societal and global transformation."
Working closely with governing board members, the district construction team and architects drafted a building design using themes and guidance from Stanford University's Digital Education Future (DEF) by incorporating several major design considerations.
With digital curriculum aligned to Common Core Standards and the rise of formative assessments and recommendation engines for learning resources, far more extensive data is available to trace learning trajectories at granular levels of detail. Stanford is a major center for the development of this new learning knowledge. It grows at the intersection of traditional social-science disciplines with information sciences, computer engineering and design. Education partnership work last year explored the cutting edge of this new world of inquiry.
More information is available from the district office at (928) 283-1001.