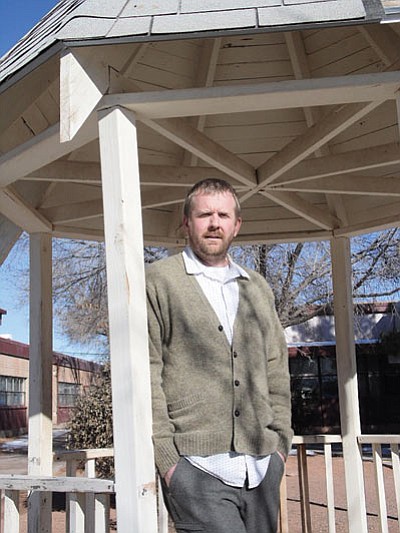 Originally Published: January 20, 2015 1:13 p.m.
TUBA CITY, Ariz. - Tuba City's Eagles Nest Intermediate School Principal Justin Roberson and Melissa Bilagody, the principal at Dzil Libei Elementary in Cameron recently earned doctorate degrees and are the most recent educational leadership success stories at Tuba City Unified School District (TCUSD).
Under the guidance of TCUSD Superintendent Harold G. Begay, mentorship and leadership success is the norm at the district.
Begay started out driving a bus for the school district before attending Arizona State University. He enlisted in the Marines to serve a tour of duty in Vietnam before attending the University of Arizona to earn his master's in guidance and counseling. He attended the University of Arizona to work on a doctorate in school finance.
Begay's own educational journey makes him one of the biggest supporters and mentors for his district administrative team.
Roberson, who was born and raised in Iowa, came to Tuba City for the hiking areas near and on the Grand Canyon plateau. Local teacher and principal Medge Windmiller befriended him and encouraged him to apply for a teaching position in the western agency town of Tuba City.
Windmiller hired him fresh out of college to teach fifth grade at Eagles Nest Intermediate School. Roberson went onto to teach at Tsinaabaas Habitin Elementary, Dzil Libei Elementary, and Tuba City Primary School. He spent some time coaching at Tuba City Junior High.
Roberson has been with the district for 19 years working with Native and non-Native students, 14 of those years teaching and five as a principal.
Roberson has a B.A. in elementary education from the University of Iowa, a master's in education leadership from Northern Arizona University and now a Ph.D from Northern Arizona University in Education/Educational Leadership. He wrote a dissertation called "The Effects of Formal Music Education on Third Grade Math and Reading AIMS Scores."
"Medge Windmiller was very helpful in my early teaching years here in Tuba," Roberson said. "I also worked for Lee Tsinigine at the primary school where I gained experience in leadership within grade levels and school-wide. Sharlene Navajo, the current principal at the primary school was also extremely influential encouraging me to pursue leadership. I did my principal leadership under her guidance when she was principal at Dzil Libei and her mentorship in leadership was significant."
Roberson plans to use his newly acquired doctorate to continue working with students and staff at Tuba City District.
"Dr. Delecki told me at the beginning of my experience, 'it's all about perseverance,'" Roberson said. "Our superintendent, Dr. Begay speaks of resiliency often and that is certainly applied to this process. My own Eagles Nest Intermediate staff was very, very supportive in my process and they constantly encouraged me. And my own children, Justus, Jaren and Ashlynn were extremely understanding and supportive of the family time they had to share with my pursuit in my doctoral studies."
Roberson said his parents, Ken and Barb Roberson, were a huge inspiration.
"My father was a teacher for 30-plus years and he and my mother instilled in me the importance of being a life-long learner," he said.
Roberson said his students are an inspiration as well.
"The new princesses at our Eagles Nest School, Nanibaa Sischillie and Shantel Manygoats both tried numerous times to win their princess titles and fell short several times, but both kept trying and kept resilient in their goals to become our school's role model princesses," Roberson said. "On a real level, I totally admired their leadership qualities and persistence and that also inspired me to keep after my final education goal."