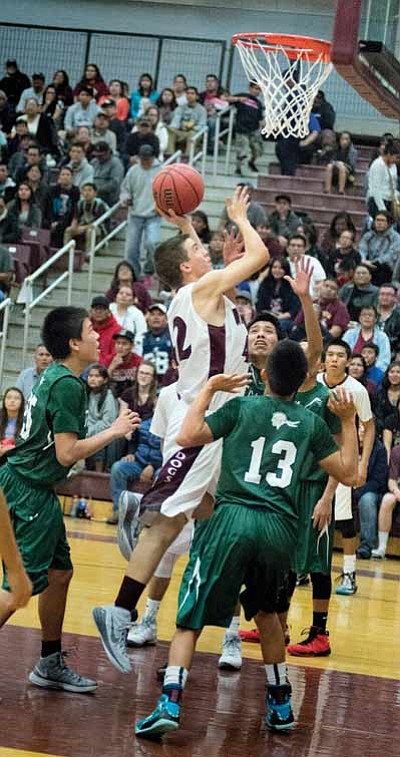 Originally Published: January 13, 2015 10:46 a.m.
WINSLOW, Ariz. - The Winslow Bulldogs and Lady Bulldogs split their games with the Tuba City Warriors and Lady Warriors Jan. 10. Winslow won the boys' game 55-38 after Tuba City won the girls' game 67-63.
The Tuba City Lady Warriors avenged a close loss to the Lady Bulldogs in the Winslow Winter Classic with the win. The win improved Tuba City's record to 11-4 and dropped Winslow's to 13-4.
The Lady Warriors took a 17-16 lead into the second period and had their best quarter of the game as they stretched their margin to double digits 39-29. Tuba City maintained a double-digit lead for most of the second half but Winslow rallied in the final minutes and decreased the margin to two points in the final minute. That rally fell short and the Lady Warriors escaped with a hard-earned victory.
The Winslow Bulldogs led the entire game in a 55-38 win over the Warriors to improve their record to 13-3 and drop Tuba City to a still very impressive 14-3 with two of those losses to the Bulldogs, the other by a single point in a tournament game.
The Bulldogs led 20-16 after the first quarter, 30-25 at the half and 42-36 after three quarters. A 13-2 fourth period advantage accounted for most of the final margin. Akkeem Foster was the only Bulldog in double figures with 13 points. Davean Yazzie was the only Warrior in double figures with 14 points. More Bulldog players scored than did Warriors.
The Winslow freshman boys defeated Tuba City 47-32 and the freshman girls won 54-34. The Tuba City junior varsity teams both defeated the Winslow junior varsities 41-40 in the boys' game and 50-34 in the girls' contest.
The Winslow teams will play host to Flagstaff Wednesday and travel to Mingus Jan. 19.
More like this story