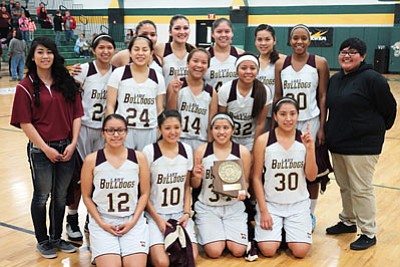 Originally Published: February 17, 2015 10:35 a.m.
SHOW LOW, Ariz. - The Winslow Lady Bulldogs defeated the Holbrook Lady Roadrunners 63-52 to win the Sectional Tournament in Show Low Feb. 13. The win improved Winslow's record to 26-4 and dropped Holbrook's to 23-8. Both teams are expected to continue in the state tournament play.
Winslow had a 19-13 lead after the first quarter and a 31-25 advantage at the half.
The game was still a close 45-40 after three quarters with the Lady Bulldogs still in command. Winslow stretched the lead to the final 63-52 result.
Shandiin Armao led all scorers with 28 points for Winslow. Kaelyn Bitsoi was also in double figures for the Lady Bulldogs with 17 points but no other Winslow player was in double digits. Holbrook also had just two players in double figures. Teyah Goldtooth scored 19 points and Quanyyah Lester tallied 13 points.
Winslow will play in the state tournament on Saturday against an opponent to be determined and at a place to be announced later.
Holbrook should also be in the state tournament and was expected to play on Tuesday against an opponent not known before the paper when to print and probably at Holbrook but that is also to be announced later.