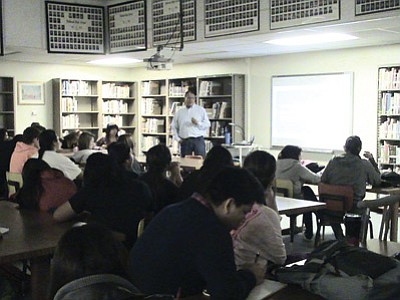 Originally Published: February 17, 2015 10:31 a.m.
HOLBROOK, Ariz. - On January 28, Fred Johnson, with the Navajo Nation Environmental Protection Agency, talked to students at Holbrook High School about the importance of clean, non-polluted water.
The presentation, heard by more than 400 students throughout the school day, was educational and enlightening. Johnson started his presentation by asking students if they knew where Holbrook got its water from?
One student asked, "The city?"
Johnson told students that Holbrook gets its water from the Little Colorado Watershed. Both teachers and students reacted positively to Johnson's presentation.
"I learned that livestock plays a big role in the loss of water on the reservation," Kiana Yazzie said. "Because grass helps maintain a strong environment with healthy water, a sheep consuming 9-11 pounds of grass a day or a horse consuming up to 21 pounds of grass, can negatively affect our water purity."
LaShaundra Tsosie said she learned that only a small percentage of water on Earth is drinkable.
"Sediment is the highest pollutant of water on the Navajo Nation," she said. "Pollution can kill insects in water and impact the food chain and economy."
Holbrook High School Principal Lance Phaturos said Johnson gave all students, Navajo and non-Navajo alike, an interesting interdisciplinary perspective that connected science, ethics, culture, economics, and politics.
"Mr. Johnson had approached us before about presenting at the school, and I am glad we were able to finally provide him an educational platform, which we plan to continue in the future," Phaturos said.
More like this story