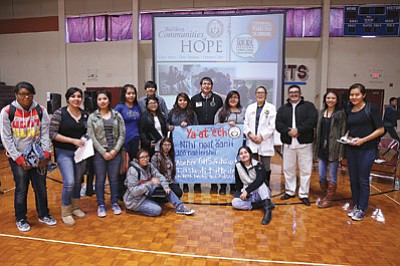 Originally Published: December 29, 2015 10:37 a.m.
WINDOW ROCK, Ariz. - Starting Dec. 14, the Office of the President and Vice President (OPVP) set out with several tribal programs and departments to initiate dialogue about suicide prevention awareness throughout Navajo communities.
The initiative known as the Building Communities of Hope tour made 13 stops across the Navajo Nation in schools, community centers and basketball games.
In addition to starting a community dialogue about suicide prevention and awareness, the tour's intent was to spread hope by reinforcing the positive.
At the tour's visit to Winslow High School, Navajo Nation President Russell Begaye asked the students to repeat positive statements about themselves.
"I am special. I am beautiful. I am valuable," they repeated.
Begaye promoted the virtues of self-confidence and self-love against degradation and despair.
"Hope has so much value because it means that you're looking beyond your current situation," he said. "Hang on to hope and you will cherish your life."
The need for dialogue about suicide prevention was reinforced by Superintendent of Kayenta Unified School District, Dr. Bryce Anderson. The superintendent said the community had suffered the terrible tragedy of a murder-suicide only two days before the tour's stop in the town.
The tragedy underscored the critical need for the tour's messaging and available resources to be brought into the community.
"This is an epidemic that is not often spoken about and we need to tear down these walls and communicate about it," he said. "It's going to be critical to build on these resources from here."
For many Navajo people, talking about suicide is taboo.
"There is a cultural reluctance by the Navajo people to discuss death, especially taking your own life. We must break down this barrier and bring suicide prevention to the forefront if we are to save lives on the Navajo Nation," Vice President Jonathan Nez said. "The discussions need to begin at home."
The intergenerational connection between elders and youth must be strengthened, he added, noting that Navajo teachings hold human life sacred. These cultural teachings will only fortify the bond between Navajo elders and youth, especially since the winter season is the time for Navajo creation stories.
Yet as the dialogue is ignored, the Navajo Nation continues to lose people to suicide. The vice president said not knowing how to address suicide could only further harm communities.
At every stop on the tour, a local professional, counselor or doctor would present tools and strategies to facilitate discussion and offer local resources, counseling services and contact lists.
In Thoreau, Jessie McKenzie and TJ Anderson of the Department of Behavioral Health Service said when dealing with a troubled individual, it's best to ask direct questions while being understanding when listening to them. The team reinforced not being judgmental or blaming.
"You're not a loser because you are hurting," McKenzie said. "Seek help from people you trust and keep asking until someone helps you. Don't give up."
Navajo comedian and motivational speaker, Pax Harvey joined the tour at Navajo Pine High School and continued through the final destination of the Coca Cola Classic basketball tournament at the Wildcat Den in Chinle, Ariz.
In Kayenta, he spoke seriously about dealing with grief and depression from his own experience in having recently lost his brother to suicide.
"You don't know what grief or sorrow is until you've lost a loved one," he said.
When grief struck hardest, Harvey said the teachings of his grandmother helped to carry him through. His grandmother instilled in him the virtues of getting up early and running to the east before the sun rose. She told him this discipline would prepare him for difficult times in his life.
Beyond traditional teachings, Harvey also encouraged seeking help in combating depression.
"Depression can sneak up on you. We're taught that you're not supposed to cry or be emotional. That's how some of us were raised," he said. "Don't be ashamed to ask for help. The only way to get through pain is to hit it dead on. You have to go through it and deal with it"
OPVP executive staff assistant and organizer of the tour, Yvonne Kee Billison said addressing suicide at the community level is tough, yet the impacts it has on communities can be devastating.
"We need to bring the numbers down because right now the numbers are high. To do this we are going to need everyone's help," she said. "We have choices and we can make everything better for ourselves. Each of us needs to know our lives are worth living."
Because even the loss of one life is one too many, Billison said she and several assisting departments would continue to schedule presentations from requesting school and communities across the Navajo Nation.
More information is available by calling Yvonne Kee-Billison or Christopher Bahe at (928) 871-7000.
More like this story