Not your typical Native American dancers
Young dancers find inspiration in traditional ballet at Northern Arizona University Music and Dance Academy
Originally Published: December 22, 2015 10:55 a.m.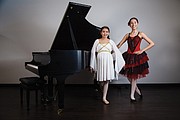 FLAGSTAFF, Ariz. - A love of dancing unites four young Native American ballet dancers at the Northern Arizona University (NAU) Music and Dance Academy.
The four girls danced in this year's "The Nutcracker" performance at NAU this year. They are also some of the only Native American ballet dancers around.
Andrew Needhammer teaches 18-year-old Neida Rodriguez, 12-year-old Brienne Harvey, 10-year-old Maya Harvey and 8-year-old Ashe Salliego at the academy. Needhammer has run the program for the last 12 years.
He has taught Neida for the past 10 years. Maya and Brienne have danced at the academy for three years and Ashe is in her first year.
Neida has danced since she was 4 years old and has danced under Needhammer's instruction for the last 10 years. She said it has been a great experience.
Her mother, Marietta, said she took Neida to see a show where Alissa Dale, a principal dancer with the Nevada Ballet, danced. Neida was inspired.
"Neida just watched her and she loved it and I said, 'I think this is it,'" Marietta said. "I credit Alissa Dale for inspiring her and Maureen Price for keeping up with her and just being so enthusiastic with her and Needhammer for teaching her."
And ballet may have been a natural choice because while her friends are more into modern dance, Neida has stuck with the traditional.
"I really think that's wonderful," Marietta said. "I think if we were on the reservation maybe that would have been the thing that she loves, traditional."
Neida said it is the feeling she gets from the music while dancing that she loves, even if it is classical music. In this year's performance of "The Nutcracker" she was the Sugar Plum Fairy, a dance that is usually given to senior dancers in the program.
"That was a dream come true since I was four," Neida said. "It was pretty cool."
In "The Nutcracker" this year, Maya was an angel and Brienne was a Spanish chocolate.
"Our mom asked us if we wanted to dance "The Nutcracker at NAU and start ballet again," Brienne said. "And, of course, I was like 'Yeah!' I just love to dance. I've always loved "The Nutcracker," too. Being in it is amazing."
Maya agreed.
"I also really like dance," she said.
Ashe said there are many things she loves about dancing - the moves, costumes and music and that the movement challenges her mind and body.
"Dance has shown me more than just steps," Ashe said. "It has shown me people who love me and support me and that I should never give up in anything I do."
While Maya is not sure what she wants to do in future years with dance, Brienne said she would like to continue for awhile.
"I really want to continue dance, at least until I finish high school," she said.
Neida, who is graduating this year, is still unsure what she wants to do with dance in the future, even though it has been a large part of her life for so long.
"I think giving that up would be weird and I would probably miss it," she said. "I don't really want to give it up but I probably won't minor or major in it or pursue a career in it."
But Neida said that dance has given her a lot of things she can carry into the future.
"It's given me a change of view," she said. "I've learned a lot of things from it. It's created who I am, an out to go to."
Duane Harvey, Maya and Brienne's father, said four of his daughters have danced ballet. That is a large number considering how few Native Americans dance ballet, something sometimes looked down upon on the reservation as giving in to white culture or changing who they are inside.
"There is dancing in the Native American culture, but I think ballet dancing is almost sometimes looked down upon as being different than the culture not only in presentation but theory," he said. "The Nutcracker" is not traditional Navajo for sure."
Harvey said he does not know any Native American professional ballet dancers and he is glad that his daughters have a chance to expose themselves to different influences that reflect not only their Native American heritage but also the Irish and Scottish side.
"This is a great opportunity," Harvey said. "There are a lot of things I believe in that I should have for my daughters or that they are able to take part of. Brienne and Maya have older sisters who were role models for them. They all have their own way of looking at ballet."
Harvey said he grew up on the reservation with a lot of traditional ceremonies. His girls did not. He grew up with English as a second language. Maya and Brienne not only know English, but they also have learned bits of other languages, like Navajo, Scottish, Irish and French as it reflects their heritage.
"They don't see culture as I grew up," Harvey said. "They see everyone as friends and equals. So there is a huge difference in that perspective."
He believes there will be more Native American dancers because dancing is a natural feel for Native Americans who are runners by nature and generally very agile.
"I hope they can be role models," Duane said. "I think it's going to be beneficial to let people know that it is possible to be a ballerina if you want to. It is if you have goals. I really hope that people can see that this is a good thing overall, not only for the nature and spirit of the child but into their adult ages."
Neida already inspired the Harvey girls to want to dance.
"They first saw [Neida dance] when they were younger and they said, 'Wow, we can do that?' It was really neat to see that," Harvey said
Needhammer said he does not see many Native American girls and boys at the academy.
"Not often enough," he said. "I wish we had more. Neida's been here for 10 years or more and she is very talented and a beautiful dancer but not a lot of others."
Neida is aware of who she is and that being one of the few Native American ballet dancers means she may be an inspiration and role model for others to follow.
"I hope I am," she said. "I truly do. There aren't enough. I feel like this sport can be defined as a white sport or something out of the ordinary. It has always felt like that in my family I always felt very different, doing ballet because they've all done sports like soccer and softball or other things. I am the first one out of my family to do dance and do ballet. Being a minority has taught me a lot of things. I hope that more people, other Native Americans don't get discouraged by the few minorities doing it."
SUBMIT FEEDBACK
Click Below to:
More like this story