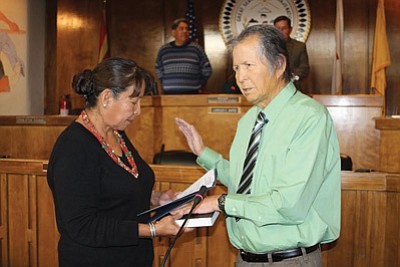 Originally Published: December 15, 2015 11:31 a.m.
WINDOW ROCK, Ariz. - Leonard Haskie, who served as both Navajo Nation chairman and president, passed away Dec. 6 at the age of 71.
Haskie was originally from Tsé'ał'náoz't'i'í (Sanostee), New Mexico. His clans were Ta'neeszahnii (Tangle People Clan), born for Táchii'nii (Red-Running-Into-The-Water Clan), his maternal grandfathers are Tódích'íi'nii (Bitter Water Clan), and his paternal grandfathers are Nakai Dine'é (Mexican Clan).
"Today we learned that one of our former leaders, who had served both as a Navajo Nation chairman and president, had passed away last night at Northern Navajo Medical Center in Shiprock, New Mexico. Leonard Haskie was a person with a wealth of knowledge that he used to advance the Navajo Nation toward a better future. It was a pleasure to serve with Leonard Haskie during my time as a council delegate on the 22nd Navajo Nation Council," Navajo Nation President Russell Begaye said.
Former President Haskie took the reigns in leading the Navajo Nation as interim chairman in 1989.
In his leadership capacity, he served as interim chairman, then president for two years. He was the tribe's first president under the amendments to Title 2 of the Navajo Tribal Code.
It was during Haskie's tenure as interim president that the 88-member tribal council and chairman's post were formally separated into two distinct legislative and executive branches. Previous to his tenure, the chairman sat on the council and controlled it.
During his term as interim president, Haskie reactivated the Navajo Labor Investigative Task Force (Task Force) by executive order. The Task Force deliberated on proposed amendments to the Navajo Preference and Employment Act, put on public meetings to receive input from the Navajo people and established a comprehensive understanding with organized labor.
One of Task Force's goals was to achieve higher quality and more numerous employment opportunities for Navajo people within the Nation and among neighboring communities.
The former president was a staunch supporter of education. Haskie had a bachelor's degree and a master's degree in civil engineering and was a licensed, professional engineer in the states of Arizona, Utah, and New Mexico for several years. Aside from his formal education, he was renowned throughout the Navajo Nation for his great knowledge and ability to speak the Navajo language fluently, as pointed out by Council Delegates Tom Chee and Leonard Tsosie.
"Leonard Haskie is a leader that met the challenges of a difficult and perilous period in Navajo history to lead his people. He was a true orator in the Navajo language and he will always inspire future leadership of the Nation," Chee said.
Tsosie echoed those remarks saying that Haskie had done his duty for the Navajo Nation and school children.
"I will miss his leadership, his fluent Navajo language also known as the 'Haskie standard', his detailed memory of Navajo history and as a clan 'big' brother," he said. "He cared about the Navajo people and delicately approached issues expressing his words with k'e and hozhó. He is in a heavenly home. Let's pray for his family and continue on his brand of leadership."
Haskie also was assistant superintendent for support services for the Gallup-McKinley County School District.
During a special session in November 2014, the Navajo Nation Council welcomed Haskie as a newly appointed council delegate. Haskie represented the communities of Beclabito, Cove, Gadi'I'áhi/To'koi, Red Valley, Sheep Springs, Toadlena/ Two Grey Hills, Tsé'ał'náoz't'i'í.
Navajo Nation Council Speaker LoRenzo Bates and the 23rd Navajo Nation Council extended its heartfelt condolences to the family and loved ones of Haskie.
"On behalf of the Navajo Nation Council, I send my sincerest condolences to the wife, children and family of Leonard Haskie, a highly respected and distinguished leader of our great Nation," Bates said.
Begaye said Haskie was a leader from, and of, the Navajo people. The president said Haskie's commitment to connecting with people at a grassroots level was testament to his effective leadership capacity.
"He was a great leader who had vision beyond his generation and we the next generation are living in the legacy he saw for us, when the Nation established the Permanent Trust Fund," said Council Delegate Alton Shepherd. "As the Nation mourns the loss of this great leader, we as Navajo People should remember our elders' teachings to live life to its fullest and in hozhó. Our prayers are with the family and with the Nation."
Looking back at the political career Haskie had undertaken in tribal government and education in, the OPVP wanted to express its deepest gratitude to his family and thanked him for his service toward enhancing the Navajo Nation.
"It was an honor to sit with him on council. I learned a great deal from him," said Vice President Jonathan Nez. "We ask the Navajo People to pray for him and his community."
Begaye and Nez issued a proclamation in honor of Haskie to have all flags flown at half-mast Dec. 11.
"Our hearts are saddened with the passing of Leonard Haskie. He was a devoted husband, father, brother and son," said Council Delegate Amber Kanazbah Crotty. "I feel fortunate to have had the opportunity to discuss with him Navajo political theory and foreign political structures. The Navajo Nation and Tsé'ał'náoz't'i'í have lost an insightful and compassionate leader."