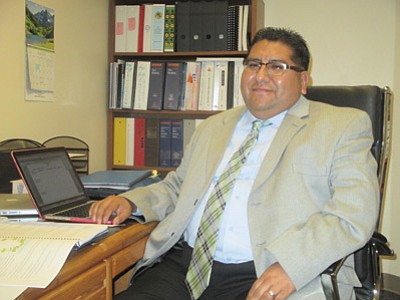 Originally Published: August 25, 2015 10:39 a.m.
POLACCA, Ariz. - Alban Naha, the new director of federal programs for Hopi Jr./Sr. High School, is hoping to see more parental involvement this school year.
Naha, who is Hopi, is in charge of Title 1 and other federal programs at the school. The school received an estimated $1.5 million last school year for federal programs. One of the main projects for Title 1 is funding the Parent Advisory Committee (PAC).
"We want parents to understand what's going on within the school," he said.
Naha said he would help coordinate agendas with PAC.
"We want to bring everyone together to develop school-wide goals," he said. "We want to involve parents because we're all in this together. We're a community school and we're in tune with what the community expects. Our goal is to have as many parents involved as possible, but we're looking for quality involvement with more collaboration."
Naha recently learned that Hopi Jr./Sr. High School receives Title 10 funds to identify students who don't live with their traditional families. These students qualify to receive funds for clothing and supplies.
Through Title 2, Naha plans to work with the teachers and staff to retain quality workers.
"This has to be part of our goals," he said.
Part of Naha's job is to report how the federal funds are spent and make sure the school is in compliance with federal laws.
Naha's last job was teaching computers at Second Mesa Day School. He has a Master's in educational leadership from Northern Arizona University (NAU) in Flagstaff. He also earned his BS in education from NAU.
Born in Albuquerque, N.M., Naha is a member of the Sparrow Hawk Clan. He attended Ponderosa High School in Parker, Colorado before going on to graduate from Paradise Valley High School in Phoenix. It became obvious to him soon after that he was a natural for teaching.
Naha taught in the Scottsdale School District for three years before deciding to come to Hopi. His wife Gazel teaches at Second Mesa Day School and they have three boys.