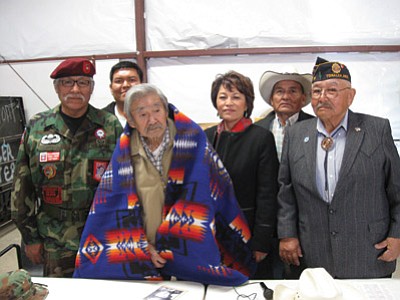 Originally Published: April 28, 2015 10:37 a.m.
TONALEA, Ariz. - On April 10 the Tonalea Veterans organization put on an event honoring long-time Tuba City resident Richard George. George is a veteran of the Korean War conflict and had been active for years in the community supporting veterans groups. He frequently entered parades with his camouflaged jeep and floats for the veterans in Tuba City and throughout Arizona.
Eunice Begay from the Tuba City Veterans office remembers George coming into the office to update her on his activities regarding veterans.
"He would come in the morning and sometimes in the afternoon and when he stopped coming we started to miss him. We miss many of the veterans who stop coming and wonder where they are at," Begay said. "Even though George and I sometimes may have disagreed on issues he always came back the next day to visit the veteran's office"
Former State Rep. Jamescita Peshlakai was the guest speaker and first encountered George when she was with Headstart.
"We were told Santa Claus was coming to visit and bring toys so we lined up and waited thinking it was going to be a big man with the beard but when I got in Santa was talking Navajo and his beard was falling off. It was Mr. George playing Santa Claus."
Peshlakai recognized his work as a legal advocate in changing laws and working for civil rights.
"He is an example to the community for his work that he has done, he lived by John F. Kennedy's words, 'Ask not what your country can do you but what you can do for your country,'" she said.
Leslie Dele, who is from the Tonalea area and is the commander for the veterans association and a Vietnam veteran, was glad to help put on the event.
"Richard George always encouraged me saying 'Don't give up on any issues. Keep going until it's done. That makes a good leader,'" Dele said.
Joe Dayzie, who is from Tonalea and is a member of the veterans organization, played host for the event and gave everyone a chance to voice their appreciation of George.
"We would like to show the young people that service in the Armed Forces is something that should be considered and hope that young people will see Mr. George as an inspiration.," Dayzie said.
Robert Begay, a Korean veteran from the Gap area, praised George for helping the people as a legal advocate and Navajo Nation Council delegate.
"He played a major role when there was turmoil in the Navajo nation back in the 1990s," Begay said.
Hopi Vice Chairman Alfred Lomaquahu made a surprise appearance to show his appreciation for George. Lomaquahu was commander of the Piestewa American Legion Post and is a Marine veteran.
"I would like to show my appreciation to Mr. George. Regardless of what background, it is good to recognize our veterans." Lomaquahu said.
George was awarded with a Pendleton blanket as part of the ceremony.
George is from Red Valley, Arizona and a member of the Mexican or Nakai Dine clan area. He grew up sheepherding in the Chuska Mountains. He was sent to boarding school like many other children at that time. George recalled one time when the Army was recruiting in the area and his brother had been recruited. George also signed up even though he was not old enough to do so. This started his journey, which took him around the world and into the Korean War conflict.
George returned to the reservation and became a ranger in the Monument Valley area and then the Tuba City region. He then collaborated in the late sixties with attorneys to establish DNA Legal Services. He became a legal advocate and practiced on the Navajo and Hopi reservations for many years. He established offices throughout the reservation - a successful native entrepreneur.
George served two terms on the Navajo Nation Council and was instrumental in introducing legislation improving the Tuba City community and Navajo Nation by soliciting funding in Washington D.C. He resumed his practice in Tuba City until he recently retired and is enjoying time with his wife Dorothy and his family.
More like this story