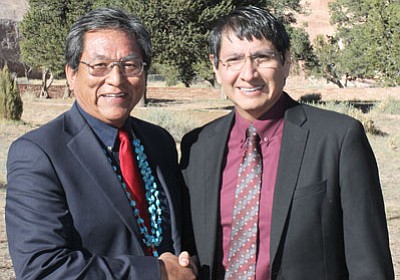 Originally Published: April 22, 2015 10:41 a.m.
WINDOW ROCK, Ariz. - After five months of delays, the Navajo Nation presidential election took place April 21. Russell Begaye beat out two-term former President Joe Shirley, Jr. by 10,000 votes.
Unofficial results show that of the 130,000 registered voters, a little more than 37 percent voted in the election. Begaye received 25,745 votes or 62.51 percent of the vote while Shirley received 15,439 or 37.49 percent of the vote. The western agency voted overwhelmingly for the Begaye/Nez administration, though voter participation was still only about 33 percent.
The election season was fraught with challenges - Chris Deschene was disqualified after he came in second in the primary because of challenges to his ability to speak Navajo fluently, which created debate about whether the election should move forward or whether the fluency requirements should be changed before the election took place.
Two former presidential candidates, Dale E. Tsosie and Hank Whitethorne, originally challenged Deschene's candidacy on the basis of whether he was fluent in Navajo. They also filed motions with the Navajo Nation Supreme Court in January to overturn a Dec. 30 Navajo Nation Council resolution that called for a new primary and general election and another resolution that pardoned the Navajo Nation Board of Election Supervisors, after the court held them in contempt for failing to comply with the court's order to remove Deschene from the ballot.
In a recent interview with the Navajo Hopi Observer, Begaye said he believes the biggest issue facing the Navajo Nation is unemployment and creating jobs on the Nation.
More like this story