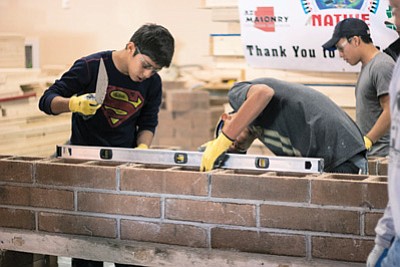 Originally Published: April 14, 2015 11:44 a.m.
TUBA CITY, Ariz. - The Tuba City High School Career Technical Education (CTE) program recently played host to the Arizona Masonry Contractors Association training for students interested in a career in masonry.
Moroni Mejia, who was the "Fastest Trowel on the Block" winner in 2004 provided the students with real world hands-on training in the proper techniques for building concrete masonry unit walls.
The CTE students learned to level, plumb, and range block while building an eight foot, four course wall. They then tooled the mortar joints to the correct professional finish.
Lisa Prichard, of the Arizona Masonry council, said Tuba City is the furthest north in the state of Arizona the training has taken place.
"We do this a couple of times a year in Phoenix with schools like the East Valley Institute of Technology, but Tuba City High is the only reservation area school that we have had the pleasure to train students at a high school level," Prichard said. "The students at Tuba High are enthusiastic, disciplined and pay attention to their work detail, it's a real pleasure to work with them. We also provide training for teachers too."
The Northeast Arizona Technological Institute of Vocational Education and the JTED district that encompasses public schools on the Navajo Nation in conjunction with the Arizona Department of Education organized the training.
Ron Tsosie, Jon Yazzie, and Cindy English, all program specialists in industrial trades, took the time to tour the Tuba City High School CTE departments, commenting on the impressive quality of the programs and the state of the art equipment labs the students work in.
Sponsors for the event included Superlite Block, Blocklite, the Arizona Masonry Contractors Association and the Arizona Masonry Guild.
The student mason training was a precursor to this year's NATIVE Skills competition that took place at Tuba City High School last week.
Participants in the training would like to extend a special thanks to Darwin Jackson of Pinion High School's Construction Technologies Program for his role in organizing the event.