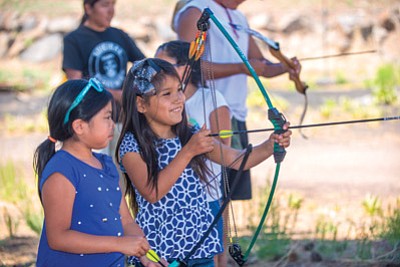 Originally Published: April 7, 2015 9:43 a.m.
FLAGSTAFF, Ariz. - The Museum of Northern Arizona (MNA) is one of 30 finalists for the National Medal for Museum and Library Services, the highest honor given to museums and libraries for service to the community.
For the last 21 years, the award has celebrated institutions that demonstrate extraordinary and innovative approaches to public service to make a difference for individuals, families and communities. Rep. Ann Kirkpatrick (D-Ariz.) nominated MNA for the award. The Institute of Museum and Library Services announced the finalists Feb. 24.
"Museums and libraries are the lifeblood of our communities, serving as trusted providers of critical resources, educational training, skills development, and civic and cultural enrichment," said Maura Marx, acting director of the Institute of Museum and Library Services (IMLS). "We salute all of our finalists, including the Museum of Northern Arizona, for exemplary leadership in promoting lifelong learning while engaging and inspiring the public."
MNA President Dr. Robert Breunig said everyone at MNA has dedicated themselves to building an institution that engages with and serves the community.
"We have formed many meaningful partnerships, promoted cross-cultural communication, expanded programs in science, culture and art for both children and adults, and informed the public about the past and future of our region," he said. "We are deeply honored that these efforts have been recognized by the Institute of Museum and Library Services."
Kirkpatrick said that she was proud to nominate the Museum of Northern Arizona for the National Medal.
"I'm sure my fellow Flagstaff residents join me in celebrating the news that it is a finalist," she said. "The educational, community-focused efforts of this museum benefit not only northern Arizona but our entire state."
The National Medal winners will be named later this spring, and representatives from winning institutions will travel to Washington, D.C. to be honored at the National Medal award ceremony. Winning institutions also receive a visit from StoryCorps, a national nonprofit organization dedicated to recording, preserving, and sharing the stories of Americans of all backgrounds and beliefs.
More information on "Share Your Story," is available by visiting www.facebook.com/USIMLS. See the full list of finalists and learn more about the National Medal by visiting www.imls.gov/medals.