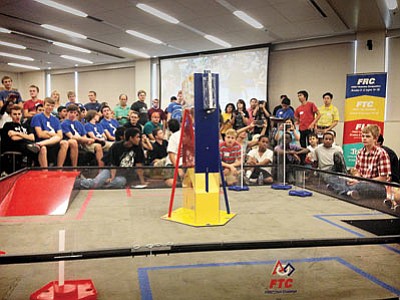 Originally Published: September 30, 2014 3:10 p.m.
WINSLOW, Ariz. - The Winslow High School's (WHS) FIRST Tech Challenge (FTC) competition team, the Cyber Hounds, came out of the Cyber Hound lab at 5 a.m. Sept. 6. The team gathered at the Winslow High School campus eager to get to Arizona State University Tempe, where teams across the state gathering for the FIRST Robotics Season kick off.
The students from all over the state of Arizona crowded around a tarp covered, approximately 3 meters by 3 meters, arena. Christine Sapio from Coconino High School led the unveiling of the arena and presenting a video introducing all the rules and how the game is played.
Each team keeps an engineering notebook that documents their daily growth as a team, their engineering ideas, failures, and successes. WHS sophomore Emma Kloor, was excited after returning from a training.
"It is so much more than I thought it was," she said.
WHS junior Judacael Tombo assisted in placing the Cyber Hounds' robot on the playing field. In doing so, the WHS Cyber Hounds were likely the first Arizona team to place their robot on this year's competition field. Coach Michael said he has a fantastic team.
"This team is full of intrinsically motivated and hardworking students," he said.
More like this story