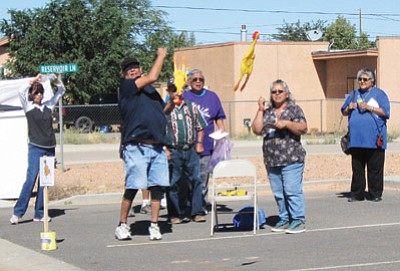 Originally Published: September 23, 2014 10:51 a.m.
MOENKOPI, Ariz. - On Sept. 18 and 19 the Moenkopi Senior Center put on its annual Field Day event. Seniors from across Arizona, including the Hopi mesas, the Gila River, Ft. McDowell and Colorado River Indian Tribes reservation in Parker, Arizona, came to the Center to compete in activities during the two-day event.
Some of the events included a chicken toss, a dart game and other games suited to the elderly participants. A chair volleyball tournament took place at another location and winning teams were awarded with an ornately carved plaque.
Alfonso Soto, from Gila River, who was competing with his team, the Prairie Dogs, was happy to be attending once again. He attended last year and had a good time and hopes to attend as long as he is able.
"It is a change of scenery to come up here. It is beautiful," Soto said.
He also likes the program the senior center puts on every year.
Linda Honani, director of the senior center was happy to see a big turnout for the event.
"I am very excited to see all the people here," she said.
Many of the employees could be seen attending to all the participants along with volunteers.
Another team from a different Gila River district also attended. Gila River has different centers for different districts but they all get together to have meetings and events, noted one participant.
Susan and Jones Lee from the Colorado River Indian Tribes reservation attended for the first time. Susan just became a senior at age 56. This was her first time attending the event.
"It is a beautiful area and I'm glad to get out of Parker. It is still too hot," she said.
She was attending with 15 other elders. She attended a conference recently where 1,200 elders attended from all over the United States.
"I was amazed with the amount of people attending," she said.
Jones is Mojave/Chemehuevi and her husband is Navajo.
Joseph Antone from the Salt River Pima Maricopa Indian Community, who is 76, mentioned "many of the seniors on the reservation don't want to participate.
"Maybe they don't want to admit they are seniors," he said.
Yvonne Hoosava from the village of Moenkopi participated in the day's events and was glad to see the turnout.
"The only ones we are missing is the Pueblos and the Paiutes that came last year," Hoosava said. "This event is getting pretty big so we would like to see if the Legacy Inn would be able to host it next year so we can have a bigger area.
She said when people age or sit too much their muscles become weak.
"Don't be afraid to come to compete when you come and do activities," she said. "You forget about the things that you are thinking about. It is good to come be with other elders and to socialize."
The seniors ate lunch and dinner at the center and local dance groups entertained those in attendance. On the second day, an awards ceremony took place and mementos were given to first through fourth place winners based on age and events. Afterward a local dance group from the public schools entertained the crowd, the seniors ate lunch and went back to their homes until next year's field day activities.
The smiles and laughter throughout the day showed it was a great day for all the elderly people.