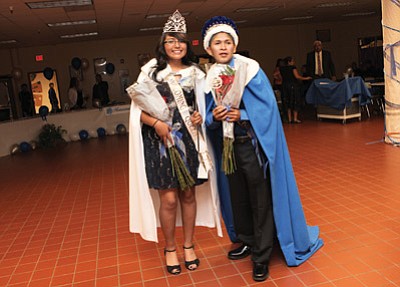 Originally Published: October 21, 2014 1:24 p.m.
POLACCA, Ariz. - Homecoming was different this year at Hopi High because a homecoming dance was held for the first time in many years. On the flip side, the homecoming game was cancelled because Rough Rock didn't have enough players, and homecoming decorations were not allowed this year.
Homecoming King Adam Laban and Homecoming Queen Ryesa Howato were excited about getting crowned.
Laban said he was relieved to win the crown and keep it in a prominent place in his house.
"I just put my name in the hat, but it was something to accomplish," he said.
Howato said she was excited about accomplishing something as well and she will put her crown on a shelf in the living room.
Laban said he liked the homecoming parade, and felt the Rumba float was the best. He also liked the homecoming dance.
"I liked the dance because of the decorations," he said. "There weren't that many people there, but the music, cupcakes and juice were all good."
Howato noted that her float took second place.
"The parade was fun and memorable," she said. "There weren't that many people at the homecoming dance, but those who were there made it fun. They played pop and country music. That was fine, but they could have played newer music. The food was good."
Both Laban and Howato were upset that the hallways decorations were not done this year. They were also both upset about the cancellation of the homecoming game.
"I felt bad about that," Laban said. "There should have been a game. That's a key element to homecoming."
Howato said the lack of hallway decorations made it seem like the event was something less than homecoming.
"It was disappointing that there was no homecoming game," she said.
Laban's message to his fellow students is that they should pursue their goals and keep moving forward no matter what.
Laban runs cross country and wrestles. He plans to attend junior college to study engineering, wildlife and the arts. Howato plays chess, basketball and softball. She plans to major in nursing, starting at Northland Pioneer College and then attending Arizona State University.
Laban and Howato's parents, teachers and friends congratulated them for winning their respective crowns. They both thanked all of their supporters.
"My parents were overly happy. They were jumping up and down. They were screaming and I had to tell them to chill," Howato said.
Howato said out of all her teachers chess coach Javier Linarte was the happiest for her.
"He told me I did a good job," she said.
Laban said he appreciated Telisha Poleahla for running with him. Howato said she was glad that Laban won "because he's really cool."
The winners for homecoming king were: Homecoming King Adam Laban, 1st runner-Up Tristan Laban, 2nd runner-up Nell Silas, 3rd runner-up Isidor Abeita and fourth runner-up Grant Pashano.
The winners for homecoming queen were: Homecoming Queen Ryesa Howato, first runner-up Telisha Poleahla, second runner-up Shae Setalla, third runner-up Shanelle Sakeva and fourth runner-up Jaylynn Josytewa.
The homecoming float winners were: first place, Bruin Den Staff; second place, Tristan Laban and Ryesa Howato; and third place, Adam Laban and Telisha Poleahla.