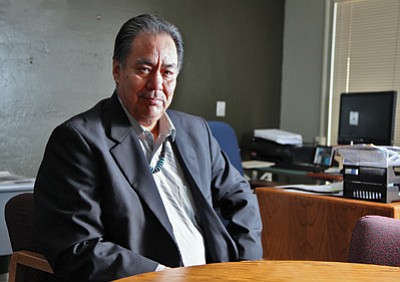 Originally Published: November 18, 2014 10:15 a.m.
FLAGSTAFF, Ariz. - Kenneth White took over as the chief executive officer of Native Americans for Community Action (NACA) in October. NACA prides itself on providing healthcare that empowers and advocates for Native people and others based on harmony, respect and indigenous values.
White said he is interested in developing healthcare directly for Native American people and that the need is great for that population to receive quality, accessible healthcare.
"As we sit here today, a lot of Native populations are still trying to catch up with the healthcare industry standard," White said. "Indian Health Service (IHS) has been underfunded since 1955. Tribal governments are also underfunded. This is a good opportunity to develop a healthcare system that will be responsive to Native people and other populations here in Flagstaff."
According to White, the success of NACA comes from its reservoir of talented staff, who are very skilled and committed to what they do. He added that what makes NACA different than other organizations are the programs and services it offers in the area of wellness and prevention. Those include NACA's wellness center, its suicide prevention program, the behavioral health programs that address domestic violence, substance abuse and alcoholism.
"They're all preventative in nature and they're the kind of programs that are needed in Native populations because you want to prevent the diagnosis rather than reacting to it," White said.
He said the Patient Protection and Affordable Care Act (ObamaCare) reauthorized permanently the Indian Healthcare Improvement Act, which had languished for eight years under the Bush Administration.
"That revitalization of the mandate for Indian healthcare is within that law and it opens a lot of doors for Native people to get better services and also to get better funding in the future," White said.
One example is elderly healthcare. In the past, IHS did not have enough of a mandate to serve Native elders in the hospital but now that has changed.
"You can create elder care clinics, you can provide elderly care and get reimbursed under IHS," White said. "It is a real big positive for Native people."
White said with the expansion of the poverty level under the state Medicaid program, NACA is able to serve more people. NACA serves people regardless of ethnicity or race. He said NACA encourages people to sign up because there are many benefits to the program that people are not aware of.
White said his role as CEO is to teach NACA's employees how to perform, administer and lead in healthcare areas.
"As long as we learn how to be effective in the Native American healthcare arena, I think NACA's going to go a long ways and it's going to transform into a regionally acknowledged healthcare provider," White said.
He added that it was important for NACA to include all seven tribes in the area, each with its own needs and traditions.
"It's really important because in the field of Native American healthcare, western medicine is only one component," White said. "The other component is traditional healing. And the traditional healing is unique to each tribe."
Part of making NACA successful is understanding and embracing those differences, which is something White said NACA already does.
"We acknowledge everybody's diversity, we've got a whole range of ethnicity here at NACA and, to me, it's a strength," he said. "It makes us more diversified, more responsive to those populations and those populations they represent."
White said that NACA does not only serve the Native American population. Its clients include anyone who is in need of healthcare whether they are Indian or non-Indian. The range of people NACA sees come from everywhere, from the Navajo Nation, Hopi, Tuba City and some from the Zuni Tribe, too.
"There's a lot of range of what NACA does geographically but also in terms of healthcare," White said.
Looking toward the future, White said it is important for NACA to meet or exceed the industry standard of healthcare, whether that is using information technology, state of the art case management or capturing revenue from insurance. It also involves marketing the NACA brand throughout the region. The long term goal for NACA is to get the entire program under one roof where all the services, from administrative to all of its programs, can be in one building.
"If we could do that then it would be a real center point for the populations that come to our facilities," White said. "Not that it isn't now but it would be more accessible."
He said the most important thing for him is to meet the community's healthcare needs first and foremost and that everything revolves around the patient. Without the patient, there would be no staff and NACA would not exist.
"The whole idea of quality healthcare is centered around a holistic diagnosis and treatment of the patient as a person and as an individual," White said. "That's how I view it."