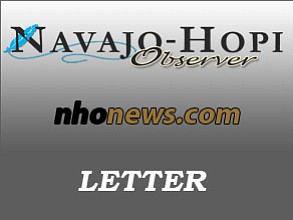 Originally Published: November 11, 2014 10:27 a.m.
To the editor:
Ya'ta'hey, Silá ło Sii (Veterans),
I'm Floyd Dawson, from Tonalea, Arizona, Western Navajo Agency to let you know that I appreciate the sacrifices our veterans make for our country. Again, thank you veterans for protecting the freedom I enjoy.
Ladies and gentlemen, our country has become the greatest in the world because of the men and women who raise their right hands and swear an oath to protect and defend our freedom at all costs. These men and women who serve honorably around the world are America's front line of defense. They put our country before self. We must never forget the sacrifices they make for our freedom.
That's why I am extremely proud to introduce the "Native Warrior" Memorial bronze sculpture dedicated to the brave warriors who have served and sacrificed to keep us safe at this time.
The memorial is a sculpture for remembering and honoring those who have died and sacrifice their lives in the line of duty to make our country free - they were members of the United States Armed Service.
A project like the "Native Warrior" Memorial bronze sculpture - is started for the remembrance of the Native American veterans killed in action and missing in action.
Thank you veterans.
Floyd Dawson
Tonalea, Arizona