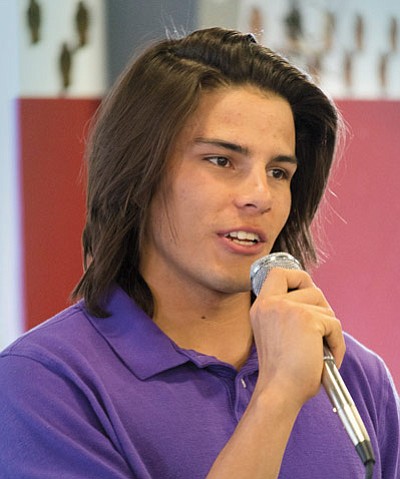 Originally Published: May 13, 2014 10:34 a.m.
WINSLOW, Ariz. - Students from all grades and schools in the Winslow Unified School District received dozens of academic awards during Native American Awards Night May 5 at the Winslow High School Student Union. Additional awards were given to students with perfect attendance. Chartwells Food Service served a free cafeteria-style meal to everyone at the event.
Denise Estudillo presented the student awards, Luke McCauley was Master of Ceremonies and Miss Winslow Native American Katonya Begay gave the welcoming speech.
Toward the completion of the event, one of the two Gates Millennium Scholar winners from Winslow High School, Vincenzio Sells, gave a speech about his future plans. Estudillo provided the closing comments for the event.