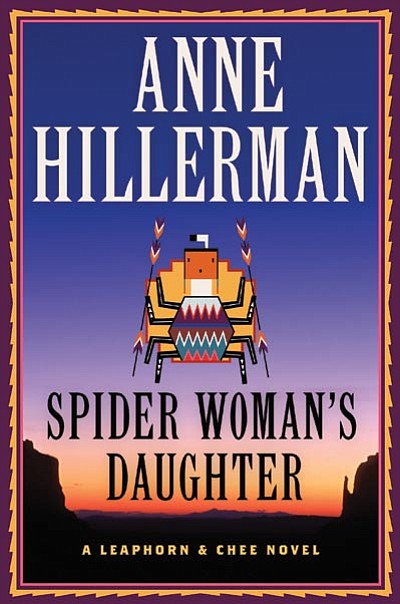 Originally Published: March 25, 2014 10:41 a.m.
SANTA FE, N.M. - After Tony Hillerman passed away in 2008, fans of his 18 books featuring the characters of Navajo cops Joe Leaphorn and Jim Chee likely thought the two characters would not be reprised again.
But a new book by Tony Hillerman's daughter, Anne, not only picks up Leaphorn's and Chee's story but also makes Bernadette Manualito, another of her father's characters, a full Navajo police officer in her own right.
"Spider Woman's Daughter" begins with a heart-stopping moment. Police Officer Bernadette Manualito has just finished having breakfast with her colleagues when an unidentified shooter in a blue sedan guns one of them down in the parking lot. Bernie witnesses the shooting, but by the time she reaches the victim he is lying in a pool of blood. As the critically wounded man fights for his life in the hospital, the Navajo Nation police and the FBI join forces to find the person who shot him. But, the officer most determined to find the killer - Bernie - has been put on leave. Her husband, Jim Chee, is put on the case, but that doesn't stop Bernie from working on her own. Clues point to a cold case from Joe Leaphorn's past - but not so cold that Bernie and Chee's own lives are not at risk.
Navajo and Native American mythology tells of a Spider Woman who is the creator of the world. Hillerman said while she does not know exactly how the title came to her she loves the softer side of the Spider Woman myth, the weaving side. But she also loves the side of Spider Woman who was a force.
"And I love Spider Rock (the home to Spider Woman/grandmother) and I think so many people know that as a beautiful site even if they don't know anything else much about the Navajo world...," she said.
Hillerman said two things inspired her to write "Spider Woman's Daughter." After rereading all of her dad's novels for another non-fiction book she worked on,"Tony Hillerman's Landscape: On the Road with Chee and Leaphorn," she fell in love with the character of Bernadette Manualito.
"I thought she was really moving up from being just a rookie cop who didn't really know anything to being a competent police officer," Hillerman said. "But she never had a chance to really solve a crime. I was thinking it would be really nice for Bernie to have that opportunity."
Another reason was while on book tours for the non-fiction book, people in the audience would always ask if her dad had another book with the publisher or just about ready to come out that had not been published because of his death.
"I would have to say 'no,'" Hillerman said. "They would always say, 'oh, we're so sorry, we loved these characters, we're so disappointed.' And after I heard that so many times, I thought that maybe I should take up the cause and at least write one book where Bernie finally gets to move up from being the girlfriend and the one who gets the coffee to being a real police officer."
She said she had brought up Bernie with her father after rereading "Skelton Man," which is set in the Grand Canyon and is the one book where Bernie gets closest to being the hero.
"I said 'dad, I think readers would really love it if you would let Bernie move up and be on equal footing with Joe Leaphorn and Jim Chee," Hillerman said. "And he said, 'oh, you know that's a good idea' but you know how it is with fathers and daughters. I don't know if he had lived another few years if he actually would have done it or if he was just being nice to me."
But now Hillerman sees that her father not writing that book provided her with an opportunity to do it herself and because Bernie's character was so unexplored, it gave her the freedom to create and add something new to the series. Writing about Joe Leaphorn and Jim Chee was another matter.
"With Jim Chee and Joe Leaphorn that was quite a challenge," Hillerman said. "Particularly with Leaphorn, because dad had been writing about him for more than 30 years. I knew when I took him on that I had to be really true to the way my father had set him up."
In writing crime, Hillerman said she has discovered a whole other aspect to her personality although she does not get too graphic in her descriptions as she believes the readers' imaginations can come up with those details.
"In [the book] I knew I wanted to do something very dramatic at the end," she said. "I was thinking of the different way of doing people in and my husband was saying, 'what has gotten in to you?'"
But she said something people really respected about her dad's books was that a grandmother could read them to her grandchild and there was nothing in them that would make either the grandmother or the grandchild uneasy. She will follow in those footsteps with her books.
"I know it seems kind of old fashioned to say it but I am going to continue to write books like that," Hillerman said.
She said that touring Navajo country with her dad and on her own has helped her become familiar with the country and people as her father was.
Hillerman also became involved with Elder Hostel, a non-profit group which focuses on helping people learn the culture, geology, history, arts and crafts and the whole spectrum of the places they visit. The group asked Hillerman and her husband if they would be willing to create a tour based on places that her dad wrote about and places that were in Hillerman's new book.
During those tours they went to Canyon de Chelly, Monument Valley, the museum, cultural center and library in Window Rock, Tuba City, the Hubbell Trading Post, the Crown Point auction, Grand Canyon and the Hopi mesas.
"When I did that, I wasn't even thinking I would be writing a novel but it was wonderful to just be traveling in the country and meet so many nice people," Hillerman said. "It was a real gift that I hadn't expected. It is funny how in life, kinda like in weaving, you have all these threads and eventually they connect and they create a wonderful picture."
Hillerman's second novel will again use Bernadette Manualito as the main crime solver and Monument Valley will be one of the main settings.
Hillerman is an award-winning reporter, the author of several non-fiction books, and the daughter of New York Times bestselling author Tony Hillerman. She lives in Santa Fe and this is her first novel.