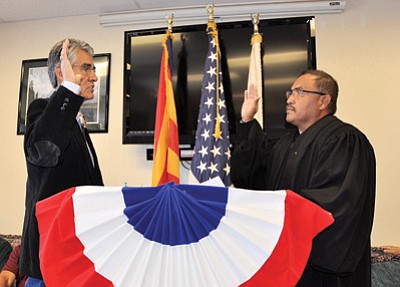 Originally Published: March 11, 2014 10:18 a.m.
WINDOW ROCK, Ariz. - Former Navajo Nation President Joe Shirley, Jr., filed papers to run for a third term as Navajo Nation president Feb. 27 despite a pending bill in the Navajo Nation Council that would limit his ability because of term limits.
Shirley is currently Apache County Supervisor for District 1.
"I decided to run because I love my Navajo Nation, I see a leadership vacuum that needs filling, there's ample opportunity for me to serve again, and I frequently hear from Navajo people who tell me they would like me to run again," Shirley said.
Shirley served as president from January 2003 to January 2011, becoming the first Navajo president to be re-elected for a second term in 28 years.
In 2010, the Navajo Nation Supreme Court ruled that Shirley could not seek a third consecutive term. However, the court noted that presidential term limits did not impose a lifetime ban on seeking a third term as president.
"The (Navajo Election Administration) asserted that the provision is a justifiable restriction as it only restricts Dr. Shirley's right to run for a third consecutive term as President, after which he is free to run again for President without restriction," the Supreme Court ruled. "In other words, the provision imposes a one-term wait period between a two-term President's candidacy for the same office."
"It is always about working on behalf of the people, and our challenge of the term limit law was no different," Shirley said. "It was on behalf of the people, at their urging, that I went forward and filed to seek a third term and challenge the term limit law in 2010. However, I respected the decision of the Supreme Court justices and today there is nothing blocking our way."
But there may be something blocking his way. Russell Begaye, council delegate from Shiprock, sponsored a bill that would limit any candidate from running for a third term, consecutive or not.
The court, in its case, did uphold the right of the Navajo people to elect the leaders they want.
"Dine bi beenahaz 'aanii encompasses the right of the Dine to choose leaders of their choice," it said. "Dine bi heenahaz 'aanii provides guidance on the subject of leadership and the manner in which traditional law has established the People's right and freedom to choose their leaders."
The court found that the Council may not amend any portion of the Navajo Nation Code in a manner that disturbs and undermines the principles of the one-term wait period, separation of powers, accountability to the people, acknowledgement of the people as the source of Navajo Nation governmental authority and service of the anti-corruption principle.
The court found that a president can run for a third term after a one-term wait period "until the people themselves determine otherwise," the court said.
"There are still Navajo people in need and there is work to be done to secure the Navajo Nation's future," Shirley said. "No one accomplishes anything alone. Together, we will embark on this campaign with heart, integrity, diplomacy, and a sacredness of mind."
While in office as Navajo Nation president, Shirley battled the Navajo Nation Council on a host of issues, which some believe destabilized the Navajo Nation government. He reduced the number of delegates from 88 to 24 and instituted a presidential line item veto. During that time, Shirley called himself the "Champion of Change" and heavily criticized the council for allegedly breaking Navajo Nation laws. The council alleged that Shirley's action to seek a third term as president displayed disregard for the Navajo Nation's laws.