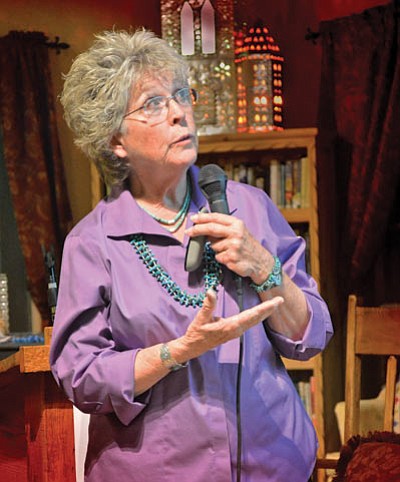 Originally Published: March 4, 2014 10:09 a.m.
WINSLOW, Ariz. - The Hopi people have a multigenerational tradition of making and using quilts assembled from small pieces of material. Carolyn Davis, a quilt historian, gave a talk on the Hopi quilts at La Posada Hotel in Winslow Feb. 21.
The Arizona Humanities Council, Winslow Arts Trust and Winslow Old Trails Museum sponsored the presentation. Davis described Hopi quilt history using a PowerPoint presentation that included historical photographs and recent quilt photos. She also brought a dozen contemporary Hopi quilts for display and sale.
Beginning in 1880, government teachers and missionaries brought quilts and stitching of quilts to the Hopi people and to the Plains Indians who produced their unique "star" quilt designs.
At Hopi, making and handling cloth was exclusively men's work. Women dedicated their time to other tasks. As time passed, women began to make quilts and work with textiles and men became less involved. Today there are still some Hopi men making quilts but the majority of quilters are Hopi women. Many of the early Hopi sewing techniques were taught to females at the boarding schools.
Hopi quilting uses a similar pattern as basket weaving: starting in the center and working outward. Often, small squares, rectangular pieces and strips are selected and assembled in a random order then stitched together.
Randomness is part of the technique, which allows for a spiritual hand to participate in the process. Not all quilts are assembled by random selections; often the pattern is carefully planned. One of the distinctive features of Hopi quilts is the use of colored indelible oil pens on white panels. This allows for the detailed traditional Hopi symbols to be applied to their quilts.
Today, quilts are typically given out at baby naming events and are still prized as economical blankets.