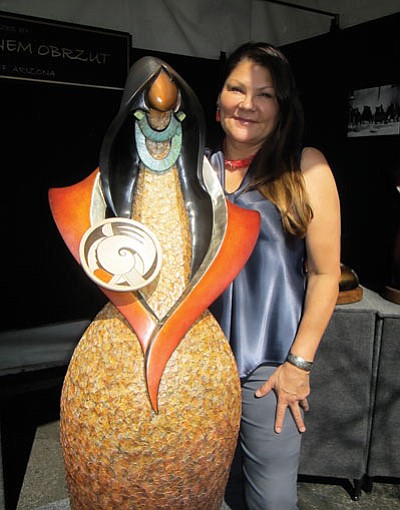 Originally Published: March 4, 2014 10:05 a.m.
PHOENIX, Ariz. - Hopi carver Stetson Honyumptewa was the signature artist at the 56th annual Heard Museum Guild Indian Fair and Market this past weekend. The Indian fair at the Heard Museum is one of Arizona's largest, with more than 600 artists, and draws 15,000 to 20,000 visitors.
The fair was designated as an Arizona Centennial Legacy Project in 2012 in recognition of its community appeal and support of Native artists.
The fair featured cultural performers from across Arizona and New Mexico, including the Tewa Dancers from Tewa Pueblo, N.M., and the White Mountain Apache Crown Dancers from Whiteriver, Ariz.
The fair also featured chef demonstrations from leading Arizona chefs showcasing indigenous ingredients in contemporary recipes.
Some of the best and most successful Native American artists were on hand, including Kim Obrzut from Flagstaff, Ariz. who is half Hopi on her mother's side. She is the first Native American woman to work in bronze.
Thomas "Breeze" Marcus, a Tohono O' Odham artist, worked on a live mural entitled "The Power of Mother Earth" during the event. The mural depicts the Earth personified as a woman of indigenous background. Marcus said the woman in the mural is not meant to represent any one tribe, culture or community. Rather, she is a universal representation of indigenous world cultures. He said several indigenous land issues and injustices throughout Native America and the world inspired the painting.