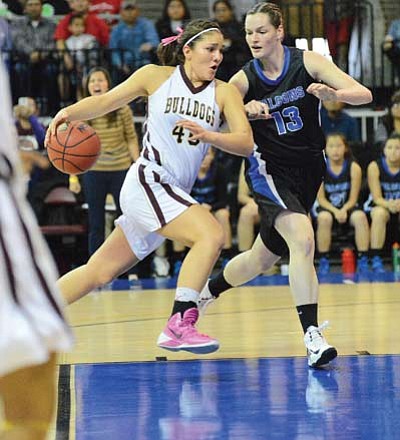 Originally Published: March 4, 2014 10:24 a.m.
PRESCOTT VALLEY, Ariz. - The Fountain Hills Lady Falcons defeated the Winslow Lady Bulldogs 53-51 in a Division III State Tournament game played in Prescott Valley Feb. 26.
The win improved Fountain Hills' record to 23-3 and ended Winslow's season with a 23-5 record.
The game was close until the fourth quarter when Fountain Hills built a nearly double digit lead. Winslow came back to close the gap but never quite caught up.
A Winslow three-pointer at the buzzer cut the margin to two points instead of five. Winslow still ended an excellent season and has a number of highly talented players returning next season.
Fountain Hills took a 14-13 lead at the end of the first quarter on a last second three-point shot by Natalie Stilwell.
The teams played the second quarter evenly and the first half ended with the score tied 24-24 after Fountain Hills hit another last second shot, this one for two points.
The third quarter saw the teams continuing to play evenly and ended with Fountain Hills leading by a narrow 39-37 score.
The Lady Falcons built a lead and began to play a deliberate offense in the last several minutes. A last second three-pointer for Winslow by Halle Hayes was too little, too late but did cut the final margin.
Halle Hayes led all scorers with 21 points for Winslow. Sophomore Jacey Sangster scored 16 for the Lady Bulldogs and Shandiin Armao scored nine points. Only two other Lady Bulldogs scored, Tannon Tom with three points and Marcella Joe with two points.
Brooke Yost led Fountain Hills with 17 points and Stilwell was also in double figures with 15 points. McKenna Schultz tallied nine for the Lady Falcons. Sierra Jarriel with six points, Sadie Czarnyzkah with four and Ashlin Catabiano with two points also scored for Fountain Hills.
Fountain Hills played the Estrella Foothills Lady Wolves in Glendale Feb. 28.