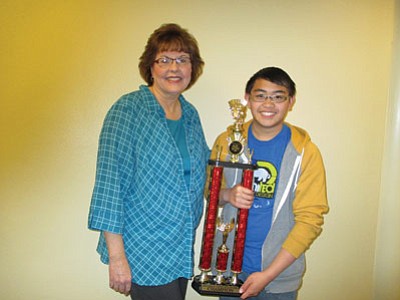 Originally Published: March 4, 2014 10:07 a.m.
SNOWFLAKE, Ariz.- Hopi Junior High's Sean Bolus won the Navajo County Spelling Bee Feb. 12 at Snowflake High School.
Bolus, an eighth grader, won a trophy and $100. Now he gets to go on to compete in the state spelling bee March 29 at the PBS-KAET studio located on Central Avenue in Phoenix.
"Winning meant a lot to me because I've been studying for it for four years," he said. "I studied many words from foreign languages and other words from other spelling bees."
Bolus said it helped that several of his relatives were in the audience including his dad, grandma and uncle along with other contestants, Hopi Jr./Sr. High School Superintendent Albert Sinquah, the bus driver and Hopi Junior High School Spelling Bee Advisor Rita Keith.
The other spellers competing from Hopi Junior High School were Patricia Sieweyumptewa, Kelly Johnson and Victoria Young.
Keith was super excited about Bolus' win.
"When Sean made it to the final three, we were on the edge of our seats," Keith said. "Then the suspense grew when a speller misspelled 'babka' and it was down to Sean and the one other speller. After some back-and-forth spelling between the two, Sean was victorious and became the first place champion."
Keith said she was somewhat surprised because she goes into the competition hoping for the best, but realizing the competition includes a talented field of students where anything can happen.
"Sean maintained his composure even after misspelling 'fuselage' in the final rounds," she said.
Bolus has competed in this spelling bee for three years so he was relaxed and confident. He had to spell two words to win the championship. After the other finalist misspelled 'ameliorate,' he spelled it correctly. Then he spelled 'calypso' correctly.
Keith said Bolus is a good speller because of his preparation.
"Sean studies and puts in the time to understand the nuances of the words which come from 14 languages into English," she said.
Keith prepares the eighth graders in her language arts classes to participate in a spelling vocabulary program throughout the school year. The program focuses on building students' vocabularies of words they are expected to spell correctly. Her classes have spelling bee competitions on a regular basis using these words so students become familiar with spelling out loud during a spelling bee.
The Hopi Junior High Spelling Bee whittled down the field from 19 to four who then began a rigorous period of studying hundreds of words. This included tutoring sessions on how to learn pronunciations and spelling tips. The students also had to study on their own.
Keith said the spelling bee is an important experience for students because they develop greater knowledge and respect for the English language. They also have the opportunity to develop poise and self-confidence as they stand on a stage to compete.
Keith said the spelling bee could be improved by having all the spellers introduced as they come on stage to pose together with their school group before taking their seats.
"There were once again some issues of mispronunciations between the two pronouncers and a blatant rule violation when a student who failed to spell his word after a long period of time was given another word to spell. It compromises the integrity of this long-standing tradition when the highest standards are not maintained," she said.
Bolus said his parents were proud, happy and excited for him. They made sure he had a nice dinner at home. His teachers and friends were also happy for him.
He is active in National Junior Honor Society and the Hopi-Tewa Youth Council. He also participates in track and field and plays football. He hopes to become a doctor, but hasn't selected a college yet.
His younger brother Alessandro won the Navajo Nation Agency Spelling Bee. His older brother Nicholai, a former spelling bee champ, helped him with studying.
Bolus said he will prepare for the state spelling bee by studying words on spelling bee lists and working with his brothers.
"At state, there will be a lot of other good spellers, but I expect to place or win if I study hard enough," he said.
His parents are Alban and Gayle Naha, both teachers at Second Mesa Day School.
Bolus competed against students from Blue Ridge, Dishchii Bikoh Community School, Heber/Overgaard, Holbrook, Joseph City, Sequoia Village School, Snowflake, Theodore Roosevelt School, Whiteriver and Winslow.