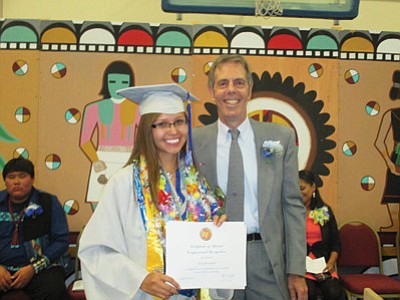 Originally Published: July 29, 2014 9:50 a.m.
POLACCA, Ariz. - Kira Beaudette, the top graduate from Hopi High School in May, received the prestigious Gates Millennium Scholarship.
This scholarship is among the most prized scholarships in the U.S. because it covers all college costs for four years at the educational institution of the student's choice. There were approximately 50,000 applicants for the 1,000 scholarships that were given out this past year.
"It felt unbelievable to get this scholarship, but it showed how much my high school work paid off," Beaudette said. "I had my mind set on getting the Gates Millennium Scholarship. I was already thinking that I was going to get it."
Beaudette also received scholarships from the Heard Museum, Ronald McDonald and the University of Arizona.
Her college of choice is Dartmouth where she will major in pre-med. She hopes to become either a general surgeon or a trauma surgeon.
"I visited the campus last fall. I love how they teach, their campus and their students. I just became too attached. I can see myself going there," she said.
Beaudette wants to return to a reservation for her medical practice, possibly Hopi or Pinon.
"I want to mentor those 14 and older. Let them shadow me. I always wanted to do that and there was nothing like that available," she said.
Hopi High Principal Glenn Gilman praised Beaudette.
"I am extremely proud of Kira's accomplishments at Hopi High School and want to congratulate her on being the 2014 valedictorian and recipient of the Gates Millennium Scholarship," he said. "She is a focused young lady and will realize her dream of graduating from the prestigious Ivy League Dartmouth College. I am fortunate to have experienced raising her father from childhood and believe that both he and Kira's mother deserve credit for instilling the values and ideals that have made Kira a successful individual."
Beaudette, who is Navajo and Irish, was Hopi High's valedictorian this past year. That honor goes to the best academic student.
"Since I got straight A s in the sixth grade, I've been working toward that goal," she said. "It was a goal and it came through."
Academics have always been important to Beaudette.
"Academics is a tool for civilization to keep going. We don't need society to be stupid," she said.
Beaudette thanked many of the professionals at Hopi High for helping her along from the teachers to the administrators to the custodians.
"I want to let each one of them know how much they helped me everyday," she said. "The school is the best because of them and students need to understand that. When the custodians said 'good morning' each day it was uplifting."
Her favorite memory from graduation was hearing her name and her classmates' names called.
"It was my last memory from Hopi High School and it was fun," she said. "As they were calling our names, I had flashbacks of all the fun we had together."
Beaudette's favorite activities were running for the renowned Hopi High girls cross country team and enjoying the honor of being homecoming queen.
"The prom was fun because I reunited with my friends, especially my best friend Lexie James," she said.
Beaudette was active in National Honor Society, Student Council, Elite Bruin Team and Senior Class. The senior class raised money to go on the senior trip to California where they visited Universal Studios and several theme parks.
"I enjoyed the roller coasters the most," she said.
Beaudette plans on joining clubs at Dartmouth, but she's not sure which ones yet and she wants to make sure she puts academics first.
"I need to see what pace the academics are going at, then I'll see what I can do with the clubs," she said.
Beaudette has joined the First Year Student Enrichment Program. About 100 of the 1,200 students attending Dartmouth are Native American so she made sure to visit the Native American House during her previous visit there.
This summer, Beaudette is working as a cable technician in Phoenix so she will have money for plane fare to Dartmouth and living necessities such as clothes.
"I don't want to depend on my parents anymore," she said.
Her final message to her classmates is for them to not give up on their dreams whether that means going off to college or becoming a mechanic.