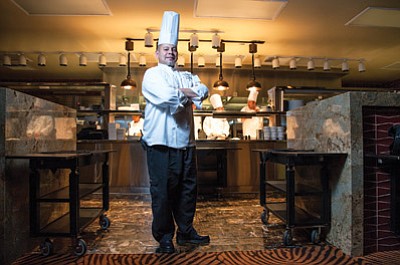 Originally Published: July 22, 2014 10:20 a.m.
FLAGSTAFF, Ariz. - AAA awarded Twin Arrows Navajo Casino Resort the travel group's coveted Four Diamond Award July 17.
Twin Arrows is the only Flagstaff destination to receive the honor, after a recent evaluation of its customer satisfaction, casino, hotel, restaurants, convention center and other amenities.
Mary Beth Reisinger, vice president for corporate communications and administration for AAA Arizona, said AAA evaluators check more than 400 items when they do an inspection including how the evaluators are greeted when they come up to the lobby, the customer service in the rooms and in the hallways, how they are treated when they call for room service, and the turn down service. The evaluation is conducted anonymously as if the evaluator is a AAA member. Reisinger said there are many steps an establishment has to meet to move through the diamond levels.
"It is the pinnacle," Reisinger said. "There are five diamonds but it is very, very rare, especially for a property that's brand new. It is actually pretty unusual for someone to get a four diamond after only being open a year. This is quite an accomplishment."
Derrick Watchman, CEO of the Navajo Nation Gaming Enterprise (NNGE), said it was an honor to receive the award so soon after the casino's grand opening and thanked his leadership team and staff for their help in achieving the award.
"We had a vision in the early development of Twin Arrows to design a flagship Navajo gaming and hospitality facility capable of achieving AAA's Four Diamond Award standards, and more importantly to hire and train a predominantly Navajo workforce capable of exceeding their stringent guest service standards," Watchman said.
Watchman said most people do not realize the tremendous amount of work that the executive team and managers put forth the past year and a half to train the new employees. Eighty-five percent of Twin Arrows' employees are Navajo.
"[They trained] 700 new employees, some who did not have previous hospitality experience, and raised our entire team to a level that is worthy of the four diamond recognition," he said. "The four diamond award is really a function of the service and that service is not done without the best team, a lot of them are Navajo. We're really proud of that."
Reisinger said the infusion of Navajo culture in the architecture, amenities and décor adds to the experience that its members will have when they come to Twin Arrows.
"That probably does add during the inspection because that is something that's different, something that is unique for our members," she said. "The inspectors are always looking for a different kind of experience..."
Watchman said the four diamond award is good for the Navajo Nation and good for northern Arizona to have a property achieve that designation.
"It is something to be proud of," he said. "To me, it comes from our staff. We have a little less than 700 staff on board here and 1,400 within the gaming enterprise...what I'm trying to promote is that we want to be the premiere workplace... that really cares for our team members."
Watchman said training is a continuous operation that encompasses everyone, from the leadership team, including himself, down the line.
"Training is constant," Watchman said. "We're trying to formalize it depending on the category of employee."
Only 5 percent of the more than 29,000 properties approved by AAA are awarded a four diamond.
AAA evaluated the resort's casino, 200-room hotel, multiple dining destinations including the Zenith Steakhouse, indoor swimming pool, fitness center and other amenities the resort offers. Of special note was the conference and convention center with a 9,000 square-foot banquet center with 25-foot ceilings, indoor and outdoor meeting spaces, VIP boardroom, complimentary valet and complimentary high-speed Internet access throughout the resort and event center.
The ranking is shared in all AAA/CAA travel information and with its more than 54 million members worldwide.
"Twin Arrows Navajo Casino Resort is committed to providing every guest with a personalized experience and attentive service in comfortable, high quality surroundings," said Linda Gorman, director of communications and public affairs for AAA Arizona. "This property exceeded the expectations of the most discriminating traveler - the AAA inspector."