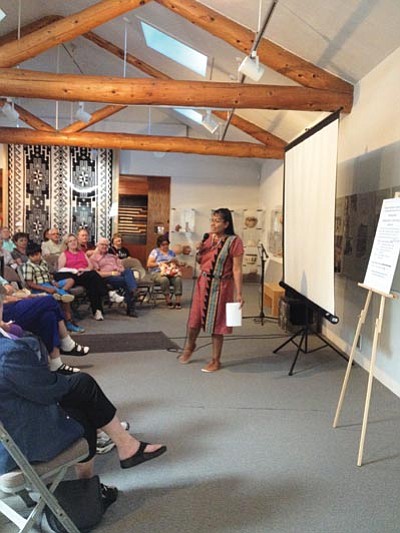 Originally Published: July 8, 2014 11 a.m.
FLAGSTAFF, Ariz. - During the July Fourth Hopi Festival of Arts and Culture at the Museum of Northern Arizona, Tewa/Hopi Ed Kabotie was the featured musical entertainment. Kabotie entertained the audience with his songs of nature and native spirituality.
Kabotie is the son of renowned Hopi artist Michael Kabotie and grandson of world renownd artist Fred Kabotie. Kabotie carries on the tradition with his fine art work in jewelry, painting and music. During his performance he used the flute - a traditional Native American instrument - as well as his guitar with reggae inflections in the music at times.
One of his most catchy tunes was his take on Bobby McFerrin's "Don't Worry Be Happy" but with a Hopi twist - "Don't Worry be Hopi." In many of his songs he uses the Tewa and Hopi language. In his song "Loloma" he sings in Hopi about the challenges people face in the world but keeping open prayers for the goodness of the Creator to help.
During his performance he stressed the importantance of preserving sacred sites such as the Little Colorado river and proclaimed "the Little Colorado River is the most endangered river and needs to be protected as a sacred river."
Kabotie also mentioned that although the United States celebrates Independence Day on July 4, for his people Independence Day is Aug. 10 - the date of the Pueblo Revolt where Pueblo and Hopi Tribes rose up against the Spanish inhabitants.
As far as his reggae influence in his music, Kabotie said "reggae music is about oppression and many Natives can relate to the message, so that is why it is appealing to Native people."
Kabotie recalled learning the Hopi language.
"When I was young growing up and went to Shongopavi, everyone spoke Hopi no English unless they had to. Now everyone speaks English and that is why we are not teaching younger children the Hopi language," he said. "Outside influences also have not helped such as satellite TV."
Many of his songs describe nature including a song about rain he sings in Hopi.
"We are always serenading the clouds for rains so don't mess it up by singing rain, rain going away," he said. "Native philosophy is that you give back what you take, but in the city it's take and take. On the reservation people need to be self sustaining but in the city it isn't that way so that is why we are running out of water."