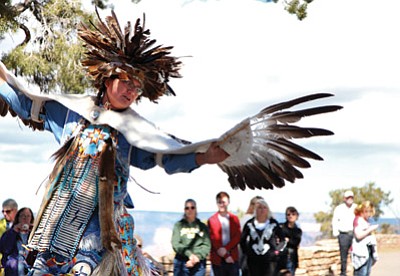 Originally Published: July 1, 2014 10:30 a.m.
GRAND CANYON, Ariz. - A troupe of American Indian dancers at Grand Canyon National Park will stage free dance performances outside Hopi House on selected dates through the end of August.
The Navajo troupe - called the Pollen Trail Dancers - perform authentic dances traditionally featured at powwows. Dances include story-telling performances such as the Bow and Arrow Dance, which tells the story of Navajo hunting days, and the Basket Dance, which demonstrates the importance of baskets and basket-weaving in Navajo life. They also perform fast-paced, crowd-pleasing Hoop Dances.
Concessioner Xanterra South Rim sponsors the dances. Xanterra operates the six lodges at the South Rim of the park, Phantom Ranch on the floor of the Canyon, mule tours, motorcoach tours, restaurants and gift shops such as Hopi House.
"We are delighted to welcome the Pollen Trail Dancers to the Grand Canyon once again, and we are pleased that visitors to the Grand Canyon will have an opportunity to experience the beautiful spectacle of authentic American Indian dance," said Bruce Brossman, regional director of sales & marketing for Xanterra South Rim.
The Hopi House is a fitting backdrop for the performances, said Brossman. The historic gift shop resembles Hopi dwellings from the American Southwest and sells authentic American Indian jewelry and artwork. Designed by famed Fred Harvey Company architect Mary Elizabeth Jane Colter and opened in 1905, Hopi House is one of many historic structures in Grand Canyon Village that showcase the park's rich cultural heritage.
On performance days, dancers will begin at 1 p.m. and 2:15 p.m. Each show will last approximately 45 minutes. The schedule is posted in all lodges and restaurants as well as at the Hopi House. Travelers can also find the schedule online.