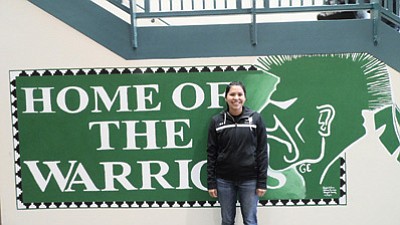 Originally Published: January 28, 2014 10:19 a.m.
TUBA CITY, Ariz. - Kamia Yazzie, a senior at Tuba City High School, won the United Dairymen of Arizona's All American High School award this week.
Yazzie, the daughter of Shirley Bighorse and Marvin Yazzie, from the Manygoats and Mexican clans, has been a high academic achiever since her freshman year. She combined her scholastic skills along with outstanding volleyball talent to win the Dairymen Association's award.
Yazzie demonstrated volleyball prowess throughout her senior year and is the Navajo Times' Player of the Year, a First Team Volleyball All Star, and AIA Division III First Team Player. She also received the Arizona Coaches Association (ACA) Volleyball All Star Award for 2013.
Yazzie maintains a 3.8 GPA and will attend Northern Arizona University this fall to pursue a nursing degree.
Yazzie credits her high school science teacher Effie Hyden for motivating her, inspiring her interest in science and for mentoring her with daily gentle discipline for serious academic study.
Yazzie also credits her parents, who did not have the opportunity to go to college, but who have supported their daughter's desire to go on to a secondary school and want her to achieve a university degree, which they hope will give her more opportunities and skills in her life.
Yazzie will be the first of her siblings to go to college, which makes her want to succeed even more.
"I'm the youngest in my family and it's a bit scary to be the one to lead the way to college, but I am up to the challenge and feel all the love and support of my parents and my community behind me," Yazzie said.
Harlan Barlow, Tuba City High's girls volleyball head coach said Yazzie deserves this award and her hard work exemplifies the definition of All American.
"Her leadership, her love and passion of volleyball has proven to earn her such an award," he said. "Since her freshman year, she has worked hard and never looked back. But she takes that even further by applying her hard work on the court to her hard work in the classroom and through her community service. She's an exceptional student role model student athlete from Tuba City High School. I am so very proud of her, there are no words to describe how excited I am for her college plans and academic career."
Yazzie, who was born and raised in Tuba City, hopes to finish her nursing degree and come back home to work and live in her home reservation community in the Western Navajo agency.
Yazzie received the All American award at a luncheon that took place at Scottsdale Community College Jan. 25.