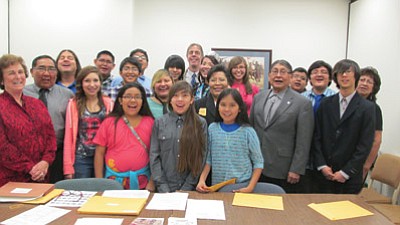 Originally Published: January 28, 2014 10:25 a.m.
PHOENIX, Ariz. - Arizona State Representative Jamescita Peshlakai spoke to 14 students from Hopi Jr./Sr. High School before the 19th annual Indian Nations and Tribes Legislative Day Jan. 21 at the state capital in Phoenix.
Peshlakai explained the legislative process and told the students about the bills she's working on to help her constituents.
One bill would help make Dineh Community College credits available to high school students. New Mexico already has a similar setup. Peshlakai estimates the cost at about $500,000 and would like to see it payed for through the Arizona Lottery.
"I need to know how to put bills together for my constituents," she said.
Peshlakai said she would like to see more social equality for northern Arizona because most of the money from the state is spent in the Phoenix area. She said when she is considering a bill that it must go through her staff and an attorney before she will propose it to the entire House. The House and the Senate must approve a bill before it goes to the governor for final approval.
Peshlakai said legislators often support other legislators' bills because then they know that the other legislators are more likely to support their bills.
One of Peshlakai's pet projects is proposing a Native American Veterans highway from Flagstaff to Utah.
"It won't hurt anybody. The only question is: 'How much will signs cost?'" she asked.
Peshlakai has submitted four bills for naming highways. The proposal will have to go through the Arizona House of Representatives Transportation Committee before it goes to the entire House. The House Transportation Committee would share the information for the proposal with Arizona Governor Jan Brewer's transportation staff.
Peshlakai said it's important to share information with all the representatives, senators and staff members before it reaches the media.
"We have to have proper respect for each other," she said.
Peshlakai told the students that her biggest challenge as an elected official is public speaking.
"In high school, I would turn bright red and sweat when I had to give a speech," she recalled.
Many elected officials use their jobs as state legislators as stepping stones for higher positions such as Congress, but not Peshlakai.
"I'm not overly ambitious," she said. "I'm honored to be here and I want to leave this as a better place for our children."
The 14 students attending from Hopi Jr./Sr. High School were Kara Beaudette, Lexie James, Greta Quotskuyva, Timothy Grover, Ezra Albert-Lomahaftewa, Kyle Secakuku, Jacob Lim, Gabriel Fredericks, Jihad Nodman, Hoitema Talayumtewa, Jaeda Honani, Kianna Honyouti, Victoria Young and Lauryn Silas.
Hopi Jr./Sr. High Interim Superintendent Albert Sinquah attended along with Hopi High Principal Glenn Gilman, Interim Hopi Junior High Principal Harvey Honyouti, English teacher Myles Beam and Hopi Junior High Academic Counselor Kay Lowe.
After the meeting with Peshlakai, the students attended the main session in the House gallery where Peshlakai recognized them on the floor.
Miss Hopi High Lexie James sat with Peshlakai and was introduced to the gathering. James had her photo taken with many dignitaries including House Speaker Andy Tobin, Hopi Chairman Herman Honanie and Navajo Nation President Ben Shelly.
Shelly was one of three keynote speakers. He told the audience that during these times of sequestration and budget cuts that it's important to embrace the Navajo philosophy of self-reliance.
"We are survivors and we must continue moving forward for the benefit of our future generations," he said.
Shelly emphasized that the Navajo Nation's priorities are education services, health services, health care, economic prosperity, public safety and community development. He said Arizona's budget will have an effect on these priority areas.
Salt River Pima-Maricopa Indian Community President Diane Enos said children are the most precious resource, but they need education.
"We need schools, not just to survive, but to thrive," she said.
Enos said children need safe roads and health care. She said state and tribal leaders will disagree on many issues, but they need a relationship of trust.
"We need to know that what you say or write us is the truth and your word," she said.
Enos received thundering applause when she said, "We are one of the metro and local tribes, and we will continue to remind you of that."
San Carlos Chairman Terry Rambler spoke about the $900 million that Indian gaming brings into the state, including funding for trauma and emergency services.
Rambler said Brewer spoke about the state being in good shape because of a state surplus and lower taxes.
"I beg to differ," he said. "Arizona ranks at the bottom of K-12 education. Teacher salaries are at a historic low. Many students are moving into other states. The governor ignored the universities' requests for more funding."
Rambler called on the state legislature to invest in education.
He noted that Arizona tribes control one-third of the land and water in the state, and bring in tourism to the state. He said the depleted water resources need to be addressed. He pointed to California Gov. Jerry Brown for declaring a water emergency and asked why Brewer hasn't done that.
"We are caretakers. We cannot exploit anybody. To do so would go against who we are," he said.
Rambler said policy decisions must be sustainable.
"We need to consider the impact of every decision on the environment," he said. "Development can be good, but it has to be done in a responsible manner."
Rambler said resources should not be exploited but viewed as sacred.
Shelly said the Navajo Nation Energy Policy has opened the way for the Navajo Transitional Energy Co. to purchase the Navajo Mine from BHP Billiton and reach an agreement with APS. The agreement will allow for the Navajo Nation to supply coal from 2013 to 2031 helping to keep 800 jobs for Navajos.
"I have always said: 'What is good for Navajo is good for our neighbors,'" he continued. "Governor Brewer will agree as well as the Senators and and those in this House."
Shelly said the federal government has a trust responsibility to Native Americans to provide important funding resources for health care and education.
"We cannot allow these treaty obligations to fall by the wayside as a matter of budget constraints," he said.
Shelly said the Navajo Nation is interested in partnering with Arizona on education issues like job readiness, career development and educational achievement of Navajo students.
"We would like to enter into partnerships to promote Indian education initiatives for K through 12 education, higher education and professional development for teachers instructing on Indian nations," he said.
Shelly said the state and the Navajo Nation should share education data to improve best practices in classroom instruction, cultural awareness and school improvement. He added that the Navajo Nation would also like to work with the state to promote careers in science, technology, engineering and math.
"We envision this as a student driven effort," he said.
Shelly also supports the long time efforts of Rep. Albert Hale and former Rep. Jack Jackson Jr. to bring more funding from the Transaction Privilege Tax (TPT) back to the reservation. The TPT brings in money to the state from business transactions on the reservations. A small amount of the TPT money returns to the reservation and Navajo officials believe it's only fair that a larger portion of this money should return to Arizona's reservations.
The proposal last year would have brought 25 percent back to the reservations while the other 75 percent would go to the counties serving the Navajo Nation.
"We ask for your support to allow TPT funding to assist Arizona tribes with infrastructure development," he said. "This would provide us with a solid foundation to begin addressing major infrastructure issues such as telecommunications, roads, buildings, waterlines, power lines and other areas of community development."
He noted that a bill already has been signed into law that will use TPT money to provide capital funding for Navajo Technical University. He credited Jackson, Hale and Peshlakai for supporting this bill as well as Gov. Brewer for signing it.
Shelly also wants to retain funding from the Navajo Nation Fuel Excise Tax that funnels into the state budget at $4 million per year. He asked that these funds stay on Navajo so they can address the 14,733 miles of Navajo Nation roads.
Shelly said the value of the state and tribal partnership is evident in the paving of Navajo Highway 20. This was a $35 million project between the Navajo Department of Transportation, the Arizona Department of Transportation and Federal Highway Administration to restore traffic to US 89 after the road collapsed.
"It showed we can do it, and we can do it again," he said. "We look forward to continuing positive relations with Arizona and the federal government. Let's make it happen."