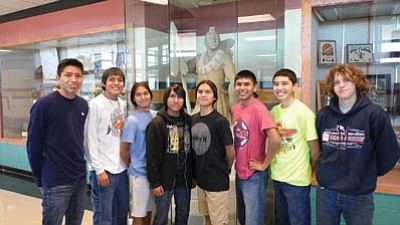 Originally Published: January 21, 2014 10:06 a.m.
TUBA CITY, Ariz. - It's only been a couple of months since the Tuba City High Boys Cross Country team took the Arizona state championship for Division III, keeping with the Tuba City High School long term legacy of winning state championship races.
But winning this year's state championship cross country title has propelled and inspired the team to more than just a school championship trophy.
The team has come to realize with the support and mentorship of their coaches, Arvis Myron and Thomas Hatathlie, that family, each other, academics and their own Reservation community are extremely important as well.
Though four of the current team members will graduate from Tuba City High School this year, each of those graduating members plans to attend college. All four are interested in health professions. Two will pursue nursing careers and one will pursue a career in sports medicine.
The motivation to run on a winning team for Tuba City has inspired the students to look for success in their career endeavors. The runners know their running discipline, work outs and early morning practices translate to success. They can apply the same work ethic to their personal plans for careers and healthy lifestyles.
Head cross country coach Myron said this team came together as a family and made the running season a lot of fun.
"I think it says a lot about their own individual character who really weren't focusing on the actual final state win, but more about each other and what community they were representing," Myron said. "They have continued to stay committed to each other, supporting each other and their studies as well, which shows that their overall discipline level is honest and true."
Myron said the preparation of a cross country team comes from runners' individual commitment to the summer training.
"As the season progresses, we follow a structured rigorous training plan that focuses on training different energy systems that will enable them to run their best at the state meet," he said. "What makes our Tuba City High program a great success is their trust in our advice and direction in coaching and how to best improve them to their best performance. This year's team has continued to prove this with their commitment, their discipline and their positive attitudes at school and in their home community."
After the state win, the Tuba City High Cross Country champs all participated in other runs. Team members ran in a half marathon right after the state meet and on Jan. 19 they ran in the annual PF Chang's meet in Phoenix. Their coach Hatathlie ran alongside them in that meet.
Eddie Loughran, a senior on the winning team, said running for coaches Myron and Hatathlie gave him more motivation to do well in school, to stay on top of his grades to be eligible and also the physical stamina to help out at home when his family needed him.
"I'm leaving for college this year, but I want to continue running for my own health and well being, and I am grateful that I got my start here in Tuba City with my team who I will miss but I know I'll always stay in touch with," Loughran said.
Other team members echoed Loughran's sentiments saying they felt that the respect, demeanor and care that both of their coaches showed them throughout this past season also gave them a better understanding about cross cultural relationships and bonding between other cultures and different households.
The cross country team membership is made up of tribal members who are Hopi, Navajo, and non Native. Myron is Hopi and Hatathlie is Navajo. The daily show of affection and respect gave the team daily examples of how varied ethnic people can work effectively and caringly together to achieve a common goal.