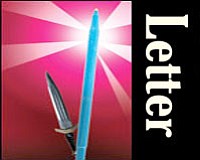 Originally Published: January 21, 2014 10:28 a.m.
To the editor:
There are more than two million Native Americans in the United States. By 2045, the Census Bureau estimates that the number will increase to approximately four million, continuing a growth trend that started back in the 1850s. The Native Americans suffered the ravaging effects of disease and violent encounters with European white immigrants.
A hundred years ago, European white immigrants taught young Native Americans to be ashamed of their language, culture and identity. Their parents were encouraged to assimilate into European white immigrant society and to forget about their Native languages, cultures and identity. The white people taught the Native Americans that their Native language is evil and their culture is also evil. The Native Americans were told not to interfere with European-American progress and become "civilized." Generations of Native Americans were taught that their ancestors were barriers or obstructions to western expansion and Native Americans were savage killers of innocent white people.
Today, as a product of the awakening ethnic-pride of Native American movements many young Native Americans began to reclaim their Native language, culture, identity and to study their history. Young Native Americans discovered several realities. First, their tribal histories, in come cases, were incomplete or nonexistent. They also learned that the histories they did have were often taught from a non-Native American perspective. They learned of the horrors that their Native American ancestors endured since whites first stepped foot on their lands.
This newfound appreciation for their histories gave Native Americans a sense of pride in the Native language, Native culture and Native identities. This knowledge also angered them. How can one not be enraged upon learning of the terrible tragedies, of massacres, Long Walk, Bennett Freeze, relocation, Bureau of Indian Affairs' control of Native American allotted land-all suffered by their Native American ancestors? The question many young Native Americans asked was, "Why didn't we learn this history in school?"
Many white societies, in the United States and around the world, have discovered an interest in and appreciation for Native Americans' language, Native culture and Native identities. For example: the Navajo language is a very important part of Navajo identity. Our Navajo language teaches us to think, to love our families, and the Navajo Code Talkers in World War II used it to win the war against the Japanese. When many of the white societies become aware of the sad chronicle of events that Native Americans have suffered, they too, ask, "Why didn't we learn this history in school?" The answer is obvious: We are all studying from the same textbook. These are book written by the dominant white society to tell mainstream history. The dominant white society ignored Native American history.
Edward Little
Tuba City, Ariz.