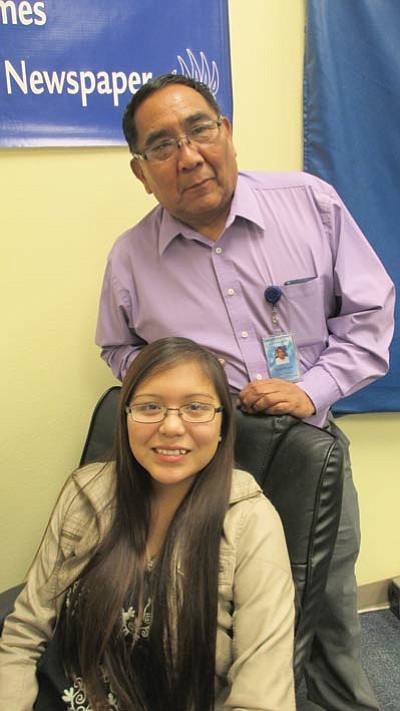 Originally Published: January 21, 2014 10:15 a.m.
POLACCA, Ariz. - Hopi Junior High Principal Harvey Honyouti has made opening the lines of communication with parents and addressing student grades among his top priorities.
Honyouti was recently promoted from assistant high school principal to junior high principal after Albert Sinquah was promoted from junior high principal to interim superintendent after the resignation of Paul Reynolds.
Sinquah said he recommended Honyouti for the job because of Honyouti's experience.
"He was the best candidate with only the rest of the school year to go," Sinquah said. "So far he's done quite well and I hope to entice him to come back next year."
Sinquah said because the junior high has a good staff the principal's job was easy to step into.
Honyouti said he wants to keep the lines of communication with parents open so if they have any concerns they can call him.
"I have more time to contact the parents than the staff," he said. "My priority is to let the parents know that we are here and that they can call us."
Honyouti said he knows most of the students at the junior high.
"I have to lead by example. I'll show up at the games because the kids have to know that we are there for them," he said.
Another priority for Honyouti is helping students who are failing classes. He said the junior high recently implemented a lunch tutoring program. He said this especially helps students who cannot stay for after-school tutoring because that is when junior high basketball and wrestling practices take place.
"If a student is on the F list too often we need to sit down with them and work out a tutoring plan or strategy," he said.
Honyouti is also concerned about students who fail and don't get passed onto the next grade. He said those are the students who are at-risk for having discipline problems and dropping out. He said it's a double-edged sword where the students who get in trouble have problems with grades and vice versa. He noted that 14 junior high students failed the first semester.
"I think we should have zero, but maybe that's not realistic," he said. "We have strategies and recommendations to ensure kids become successful. We need to do all we can to not lose these kids. Some of the students just need support. High school is a bit harder, but junior high kids are still impressionable and they're not bad kids."
One student came to Honyouti when he was feeling down and felt his grades might suffer. Honyouti knew the student believed in prayer so he told the student to say his Hopi prayers and have positive thoughts.
"It's all about attitude," he said.
Honyouti's third priority is making sure the school is prepared for the Quality Assurance Review scheduled by North Central Accreditation in late March. He said teachers Charlene Youvella, Diane Albert, Jan Sangster and Lucille Sidney have helped prepare the staff for this evaluation.
He wants to make sure that the paperwork regarding curriculum, attendance and the school improvement plan are all in order.
"We have a good core of teachers at the junior high," he said. "I'm not sure what they'll ask, but I'm comfortable that we're prepared. We may want to update the school's mission at some point."
Honyouti said cutbacks in the school's budget, because of federal cutbacks, at some point could reduce stipends and travel for staff.
"But it won't impact student learning. Our Business Manager Patrick Secakuku has done a good job of keeping our budget in order," he said.
Honyouti has been at Hopi Jr./Sr. High School since it opened in 1986. He served as a social studies teacher for 15 years. He has also been athletic director, dean of students and assistant principal. He has an master's in school administration from Northern Arizona University, his teaching certification from Grand Canyon University and his bachelor's in sociology from the University of Arizona. He graduated from Phoenix Indian High School.
He is the junior high girls cross country coach and served as the high school girls cross country coach for several years where his teams won many state championships.
His mother and father encouraged him to go to college. His brother Brian ran the school at Bacavi and motivated him to go into a career in education. He taught physical education at Hotevilla Bacavi as a community specialist. He lost that job because he wasn't certified so he decided to get his teaching certification.
Now, Honyouti said his job is to ensure that the needs of the students are met.
"There are already a lot of good programs in place at the junior high," he said. "We have a great staff so it's been a little easier than I thought. The transition has been smooth."