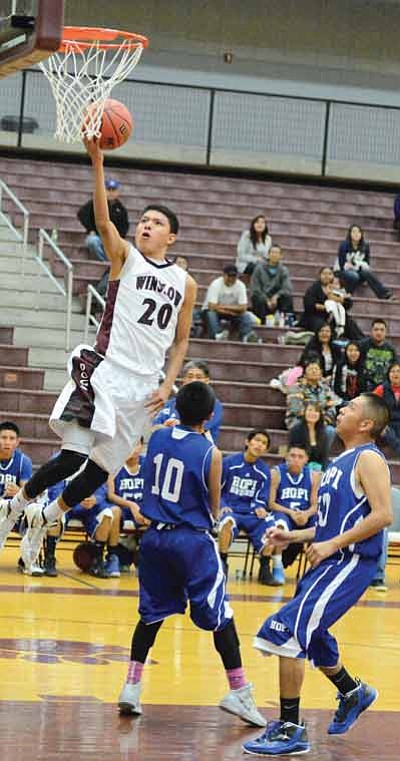 Originally Published: January 14, 2014 10:33 a.m.
WINSLOW, Ariz. - The Winslow Bulldogs split a pair of basketball games away from home Jan 9 - 11. The Bulldogs prevailed over the Alchesay Falcons at Whiteriver Jan. 9 but lost to the Tuba City Warriors in Tuba City Jan. 11.
The Bulldogs' 63-55 win against Alchesay improved Winslow's record to 14-6 for the season and dropped Alchesay to 16-4.
Alchesay led 11-9 after the first quarter but the Bulldogs rallied and led 30-25 at the half and 47-44 after three quarters.
Arnold Walker of Alchesay led all scorers with 16 points and was the only Falcon in double figures. Trelonnie Sanders led Winslow with 20 points and Stevin Nelson scored 10 points.
The Tuba City Warriors defeated the Winslow Bulldogs 58-47 in a basketball game played at Tuba City. The loss left Winslow's record at 14-7 for the season and Tuba City improved to 14-2.
The Warriors kept the Bulldogs to one three-point goal in the first quarter and led 11-3 going into the second period. The lead was a commanding 29-16 at the half. Winslow rallied in the third quarter and cut the deficit to 43-37 going into the final period. Free throws were a large part of the difference in scoring. Winslow missed all six of its charity tosses while Tuba City converted 11 of 18 attempts.
Christian Begody led all scorers with 20 points for Tuba City but was the only Warrior in double figures. Sanders led Winslow with 13 points and Frank Kelly was also in double digits with 11 points.