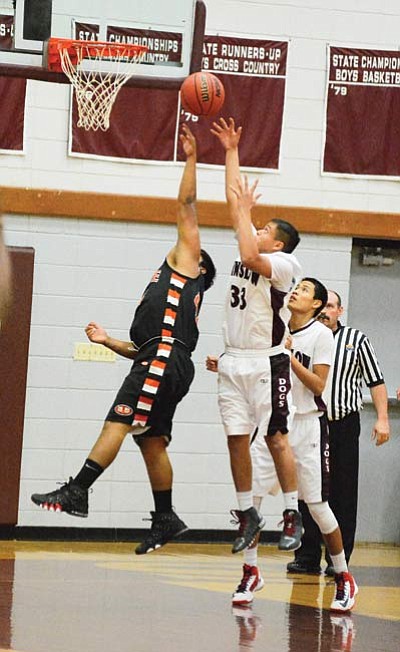 Originally Published: January 7, 2014 10:54 a.m.
WINSLOW, Ariz. - The Winslow Bulldogs won a pair of basketball games over the weekend, defeating the Page Sand Devils in Page Jan. 3 and the Globe Tigers in Winslow the following day. The wins improved Winslow's record to 12-6 for the season.
On Friday, the Bulldogs defeated the Page Sand Devils 52-41 in the game played at Page. The win improved Winslow's record to 11-6 for the season.
Winslow led 16-12 after the first quarter but trailed 25-21 at the half. The Bulldogs regained the lead in the third quarter and led 36-32 entering the final period. They increased their lead in that quarter.
Milland Thomas led all scorers with 18 points for the Bulldogs. Keenan Keams was also in double figures for Winslow with 11 points. Michael Redbear led Page with nine points. No Sand Devils scored in double figures.
On Jan. 4 at Winslow the Bulldogs defeated the Globe Tigers 62-53. The win improved Winslow's record to 12-6 for the season.
The Bulldogs started strong and hit five three-point shots in the first quarter to take a 25-13 lead by the end of that period. The Tigers cut the margin to 38-31 by the intermission but Winslow had a productive third quarter and led 56-41 going into the final period.
Stevin Nelson, who hit four three-pointers in the first quarter, led all scorers with 17 points for Winslow. Trelonnie Sanders was also in double figures for the Bulldogs with 10 points. Globe had two players in double figures. B. Dallemagane scored 13 points and J. Bahe tallied 11.
The Bulldogs played host to the Hopi Bruins on Tuesday after the Observer went to print. They will go on the road to play the Alchesay Falcons on Thursday and the Tuba City Warriors on Saturday.